The front door is the centrepiece of a home's exterior design. It is often the first thing people notice about a building, and it serves as the introduction to your house. If you are looking for inspiring entryway ideas, this week's article should give you plenty to ponder. Our guest blogger, Florentyna Leow is a writer and photographer based in Kyoto, Japan. There she is engaged in an ongoing photography project named "Doorways of Asia," in which she explores an incredible variety of everyday front door designs. In this special article for ZenVita she explains her interest in this essential aspect of the Japanese style house.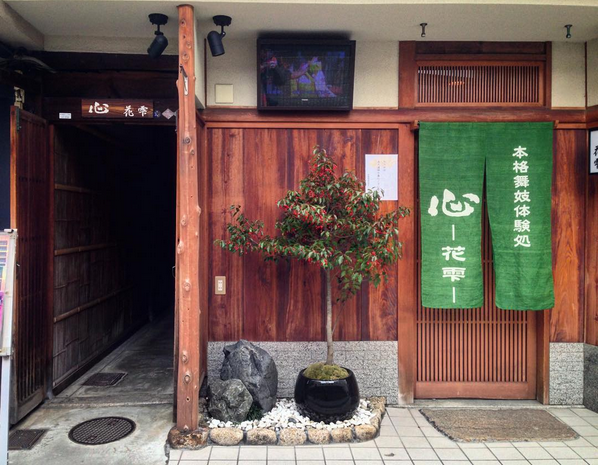 The simple elegance of a traditional Kyoto entryway with noren curtains. Noren, no life.
In 2013, my older sister and I visited Kyoto, and spent some time walking around and photographing the city. As I remember, she brought up the subject of how easy it is to take photos that shout "Welcome to Kyoto!" (they generally involve maiko geisha girls, temples, shrines, and sakura cherry blossom). But how would one convey everyday Kyoto in photos without resorting to these shorthand images?
At the time I didn't quite understand what she meant, but that conversation lingered in a half-open drawer at the back of my mind for years, and after moving to Kyoto last August, I remembered what she said when my eyes began to be drawn to this city's doors. Before this I had never really given much thought to doors - some were more noticeable than others by virtue of their ornate construction or eye-popping details, but I would open and close them without thinking too much about the why and the how and the what that went into them.
Kyoto is a living Japanese stereotype with over a thousand temples and shrines, maiko walking through the street, wooden machiya townhouses, Zen rock gardens, and sakura trees along the river. But beyond the old wooden buildings of downtown are the suburbs of Kyoto, labyrinthine residential areas, where curious details and patterns emerge when you wander through on a bicycle. Kyoto's many faces emerge when looking at doors, gates, entryways and their various trappings.
Doors of Asia is pretty self-explanatory - an Instagram account of mainly original photos dedicated to showcasing doors from the Asian continent. Since I live in Kyoto, the feed is pretty Kyoto-heavy, with an occasional door from other locations in Asia I have travelled to; most recently Vietnam and Taiwan. Here are just a few of the many quirky entranceways you'll run into when you wander around this thousand-year old city. I hope you enjoy this glimpse into an under-photographed aspect of everyday Kyoto!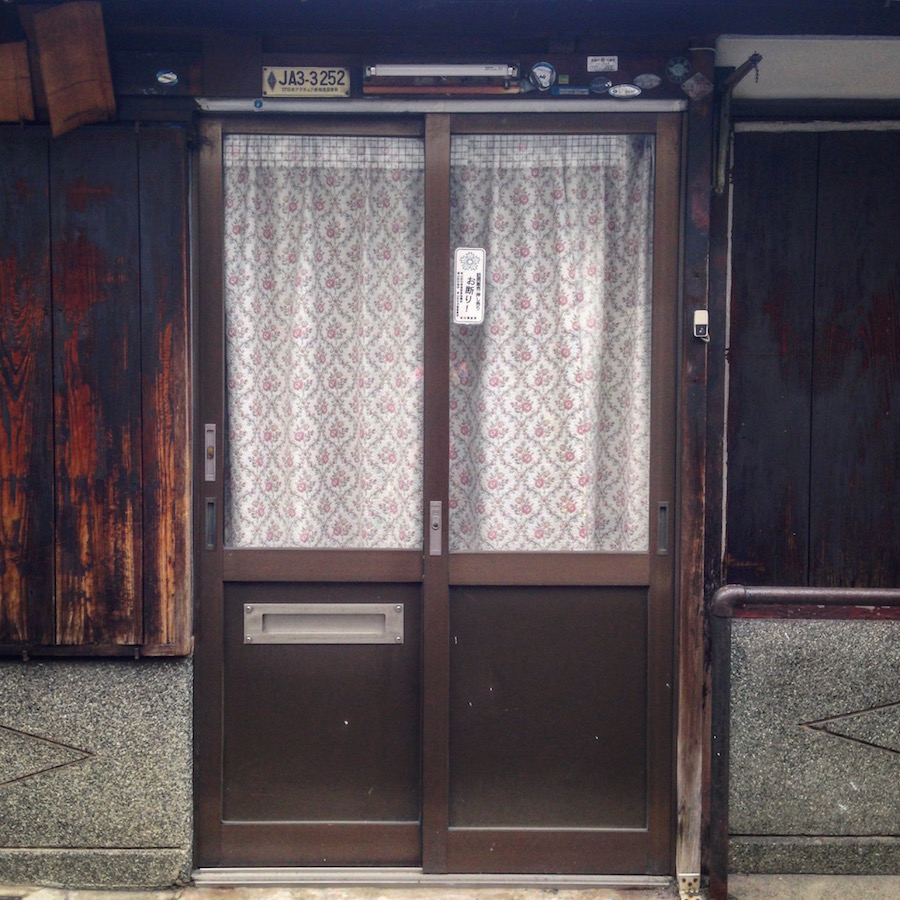 A brown door
When not made of wood, this dark dull brown metal for both sliding and hinged doors can often be seen around town, to my mind, they are very Kyoto-style doors precisely because they blend in so well with their surroundings. Even McDonalds here is required to swap out its bright red for a more subdued brown to fit in with the spirit of this city. No surprise, then, that this is the favoured palette around town for doors.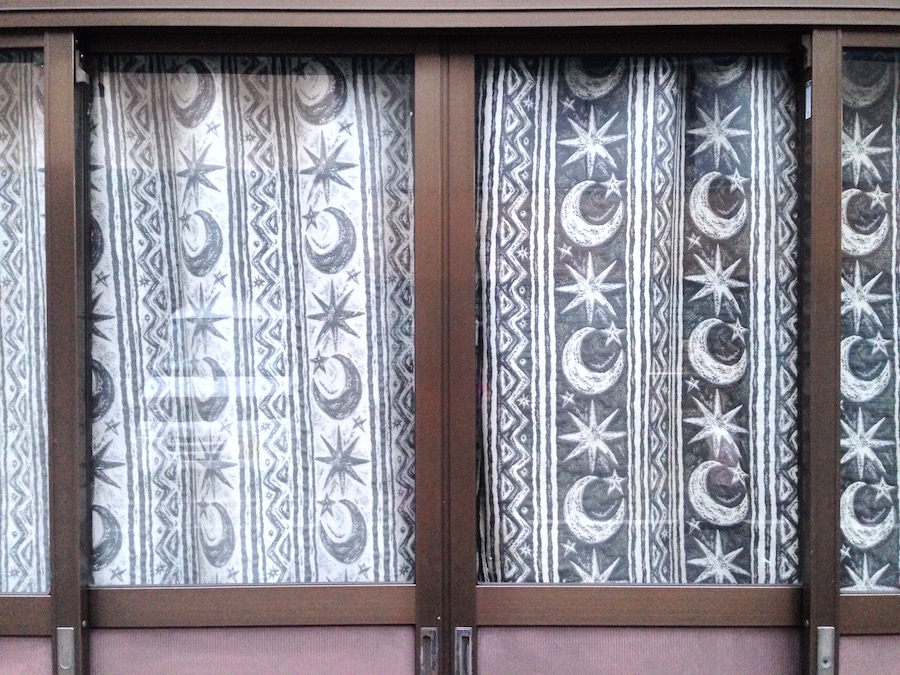 A brown door with curtain.
But even these ubiquitous glass-paned sliding doors can be livened up with curtains, adding a wonderfully personal touch to an otherwise ordinary-looking facade.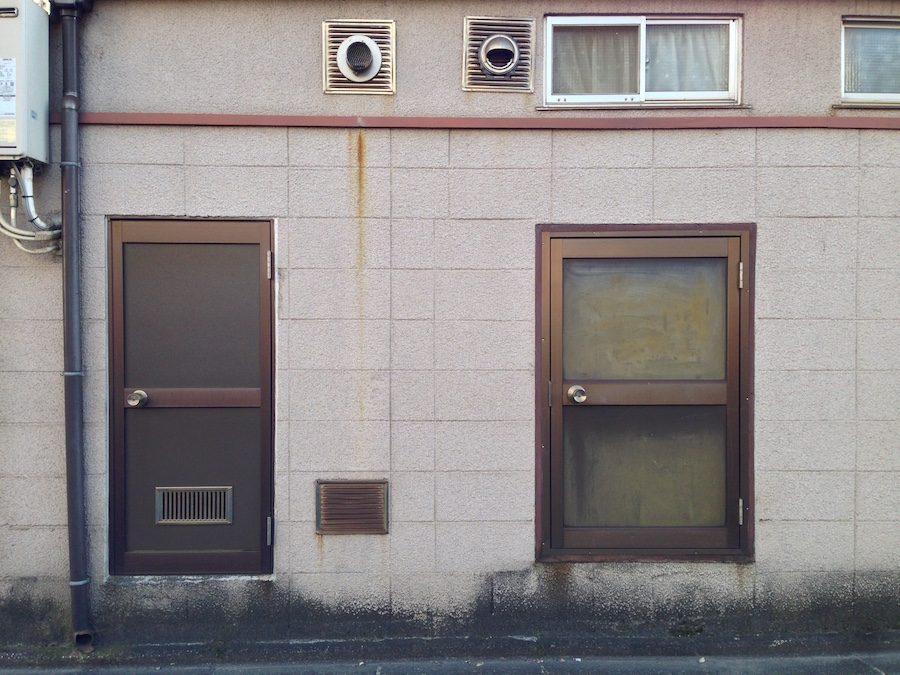 A small door for maintenance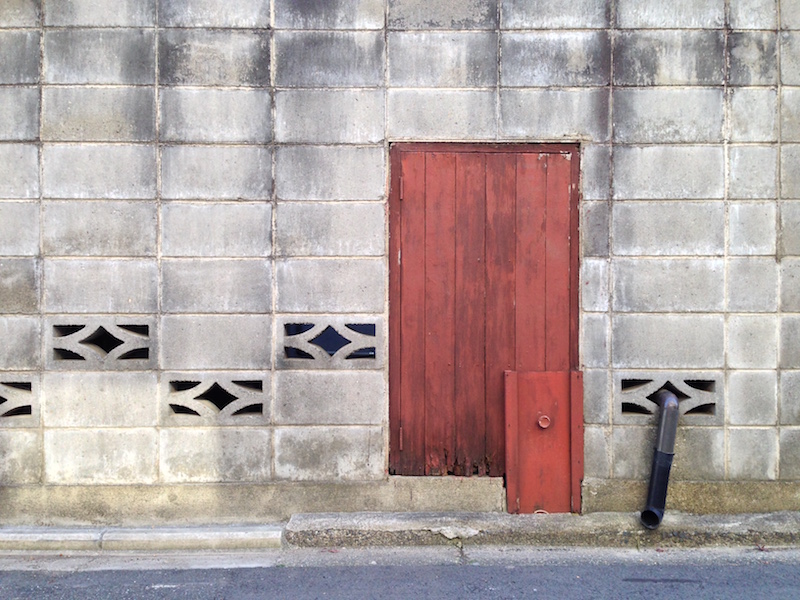 Another small door
Small doors in walls are a recurring motif in the suburbs. Sometimes they make sense, as an entryway for the maintenance of pipes and plumbing.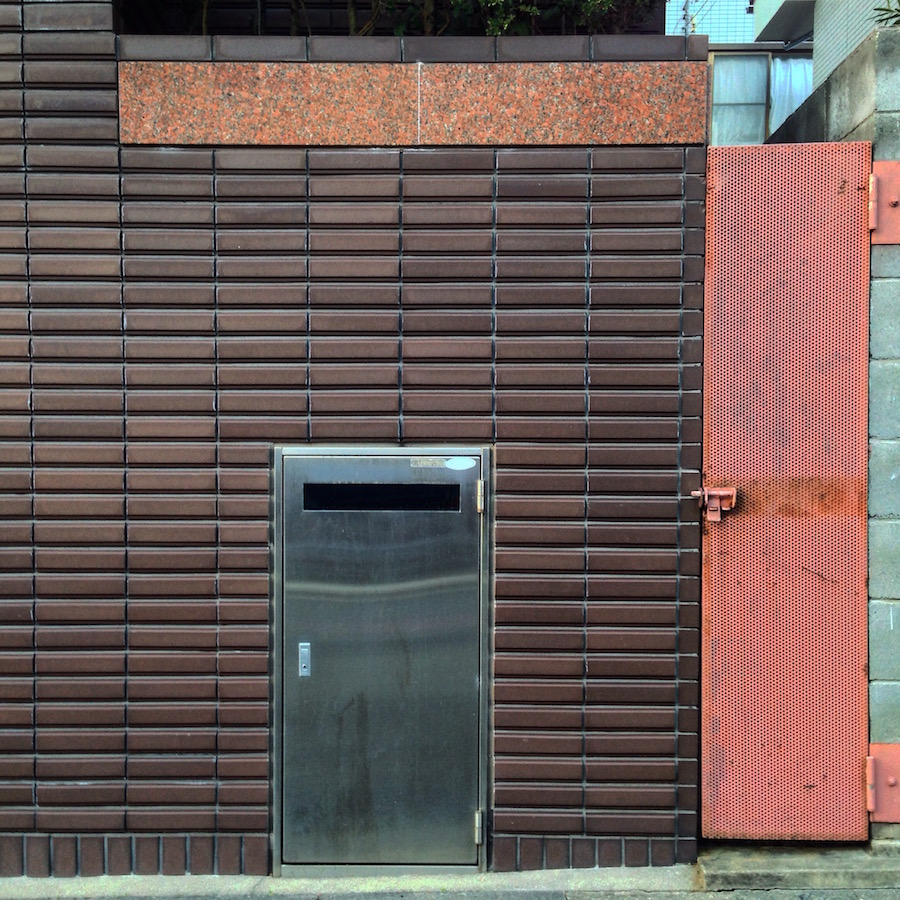 A really small door
Although, sometimes, they're so narrow that only a small child could slip in and quite uncomfortably too. Having manoeuvred my mama-chari bicycle through corridors, I'm pretty sure a bike couldn't fit in there. Is it a fire break? A space for cats to slip through?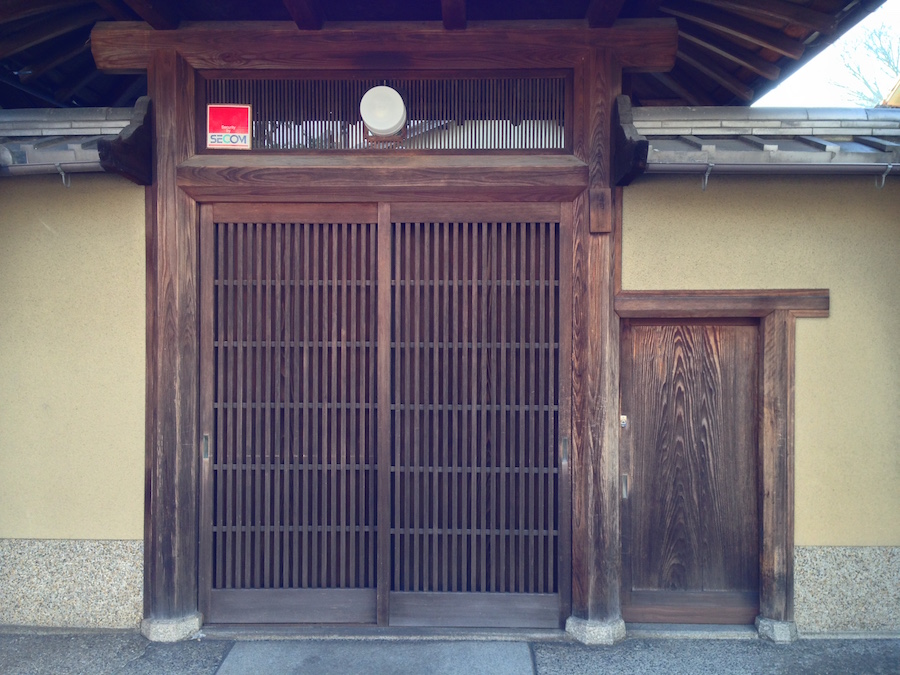 A small door by a regular size door
Small doors next to the main doors are also surprisingly common in Kyoto. You see them at the entrance to temples, where it makes sense to have a smaller door instead of pushing the heavy doors open each time. But what about the entrance to normal houses, which also have these? A similar principle, apparently.
Another theory a friend came up with, a la period dramas on TV, is that the main door might have been for the master of the house, and the smaller door alongside for the servants. Also, according to a tea master I know, small doors let in less cold - very important in Kyoto where the winters are bitterly cold - and back then it would have been easier to defend a small door against intruders, rather than a big one.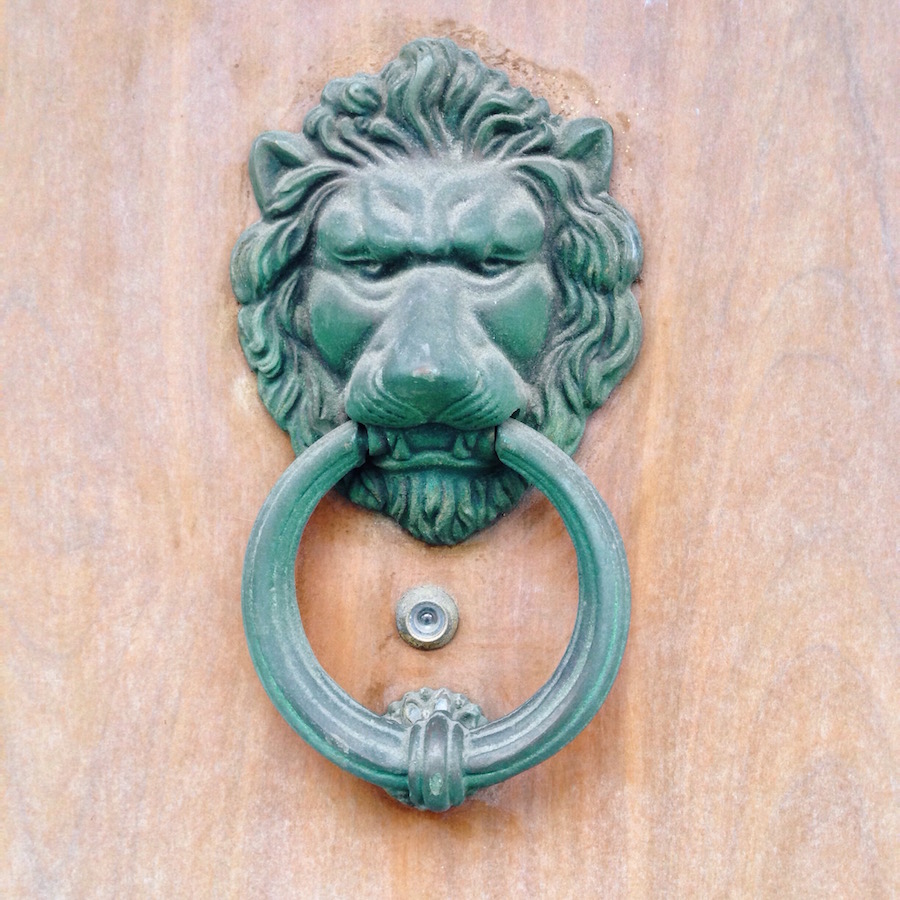 A lion head door knocker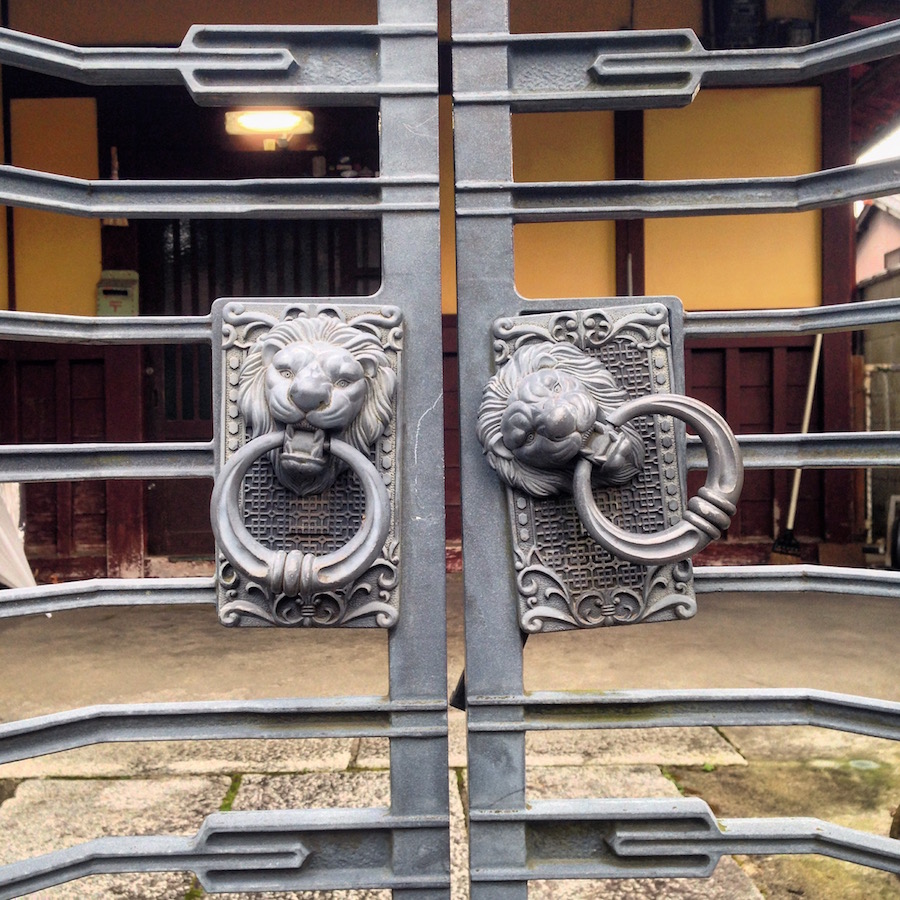 A small pride of handles
A good number of houses in the suburbs have gates with lion-head handles. Did everyone visit the same door-handle maker? Where, for that matter, does one find these things? These perhaps, are questions that ZenVita's architects can answer…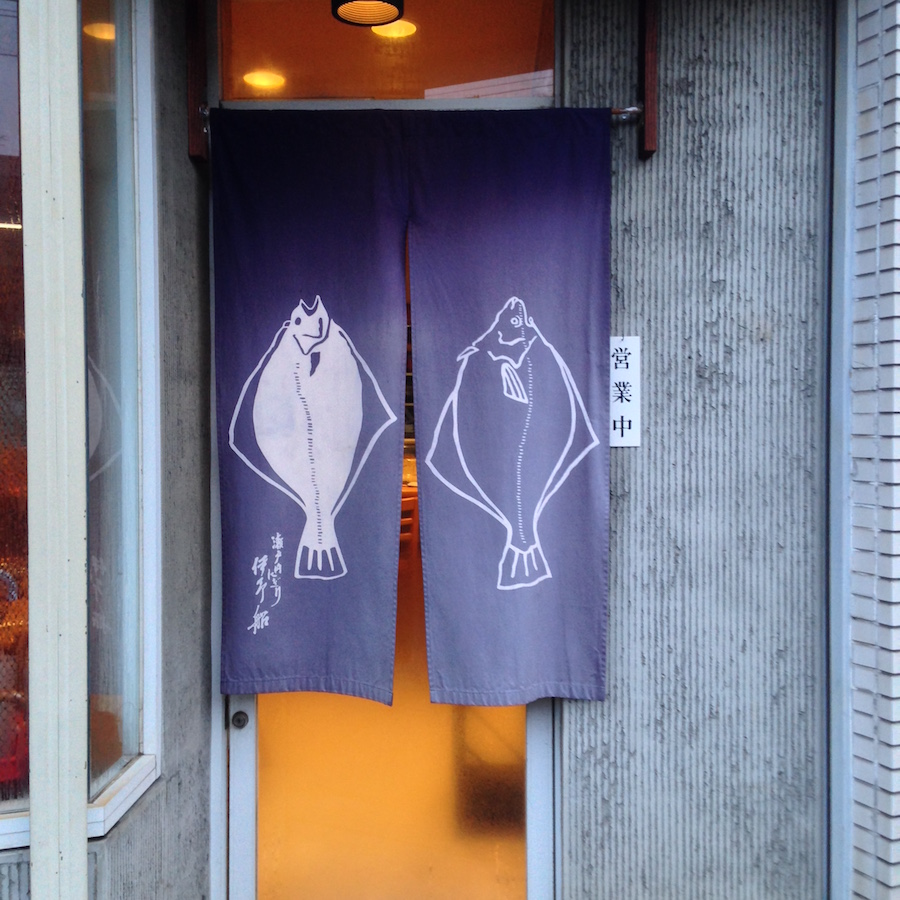 Blue noren curtains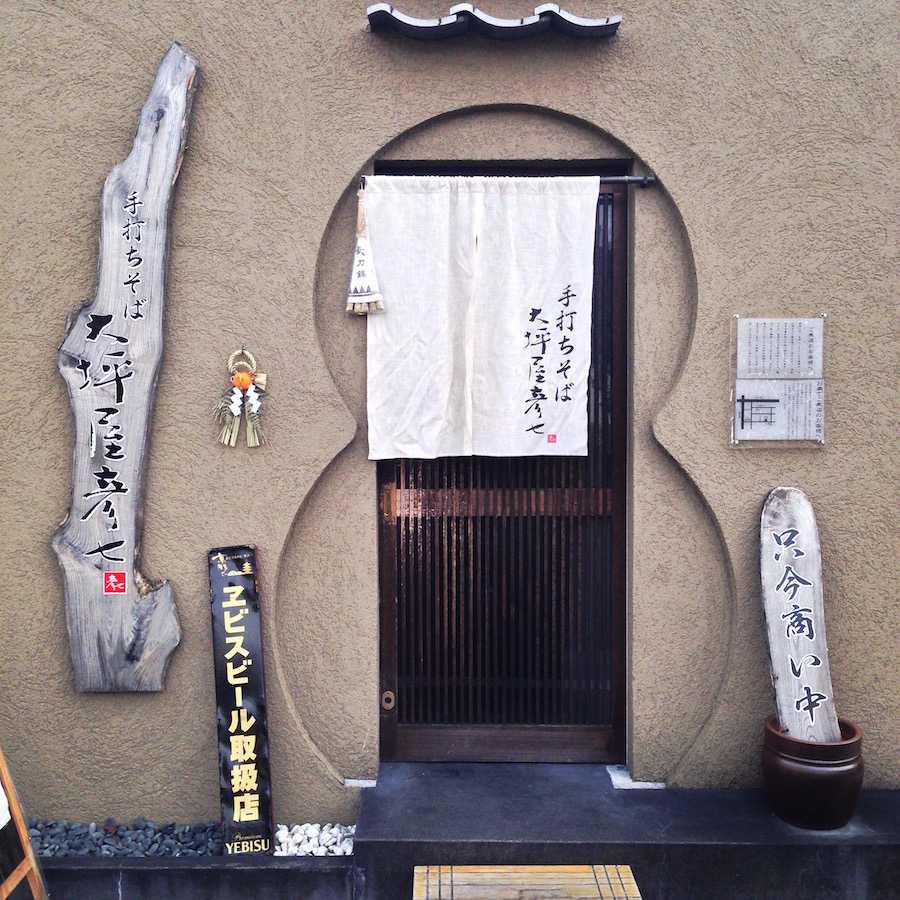 White noren curtains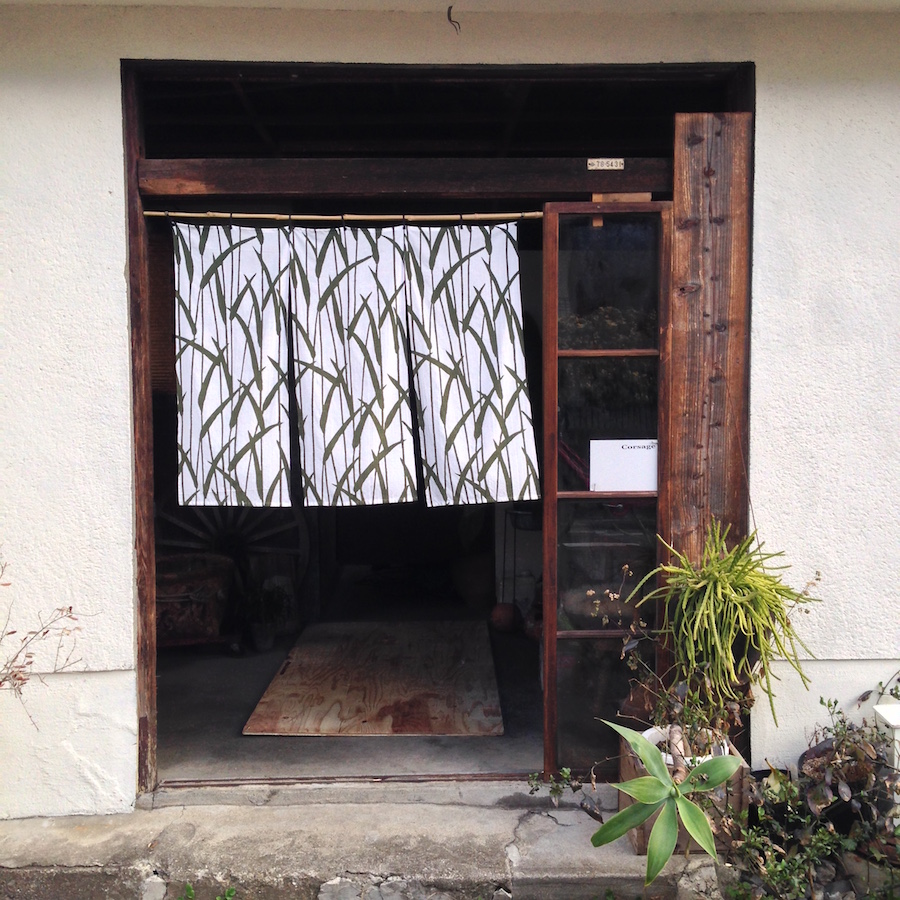 Noren curtains in three pieces
I'm a big fan of noren, those hanging curtains in front of doors in Japan. Sometimes they add a bright splash of colour and personality to an otherwise subdued entrance. Other times they have shop names on them. They add a gentle, welcoming air to a shopfront, and while they let cool breezes circulate in-store, at the same time they provide shade from the sunlight streaming into the shop. It's also easy for you to noiselessly poke your head in to survey the interior, rather than opening a door.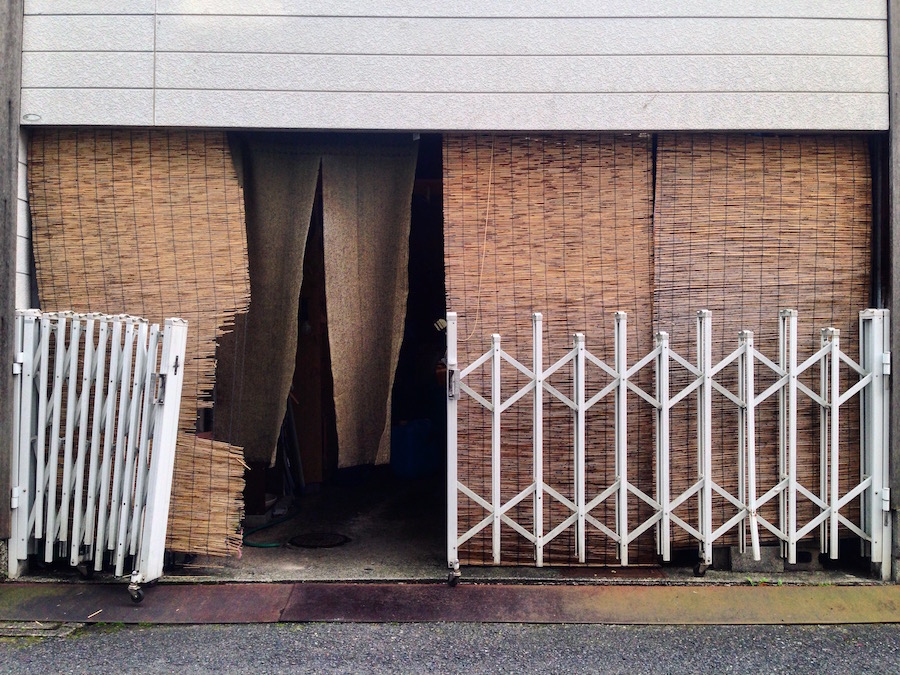 Noren & sudare
In addition to noren, you'll sometimes see sudare adorning the facades of buildings in Kyoto. These screens or blinds are traditionally made of horizontal bamboo or wooden slats woven together with string, and they impart a warm, rustic old-world feel to any entrance or window. They'll protect your interiors from the sun, but also allow cool air and fingers of light through the slats - perfect for those long, hot summer days.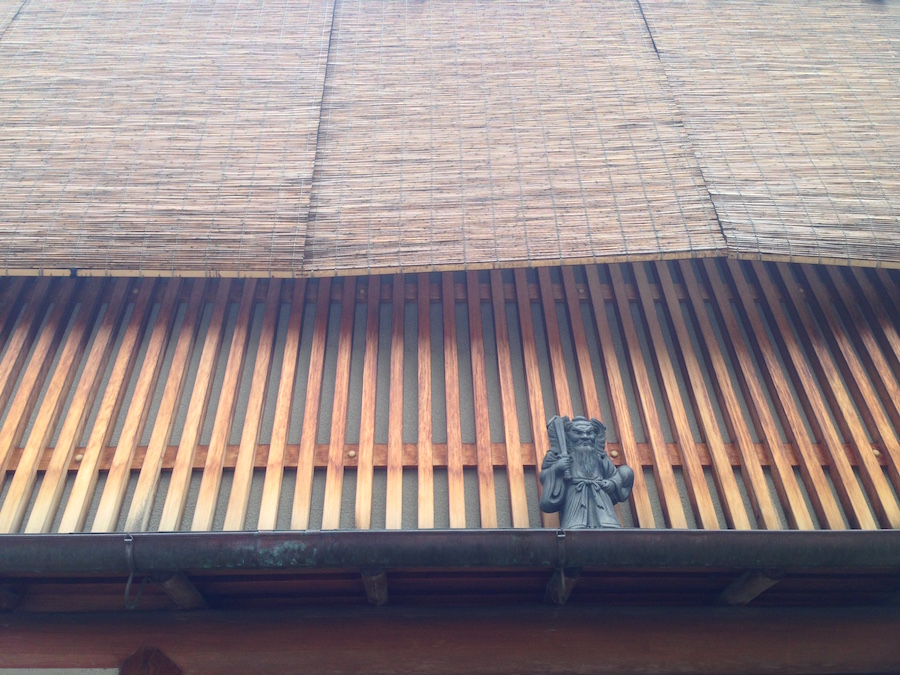 Shoki-san
Here's another typical Kyoto feature often seen at entryways. Walk along Miyagawacho or around the Nishijin neighbourhood, and tilt your gaze upwards when you see a machiya house. Chances are you'll spot a little clay statue like this perched above the door. This is Shoki-san, demon queller, banisher of evil from households! The custom of having Shoki-san on machiya entranceways in Kyoto dates back to the late Edo period, and he is believed to protect against the misfortune stemming from onigawara (demon roof tiles) which were placed as talismans on some houses. He would be an extremely charming addition to any traditional Kyoto house you might want to build!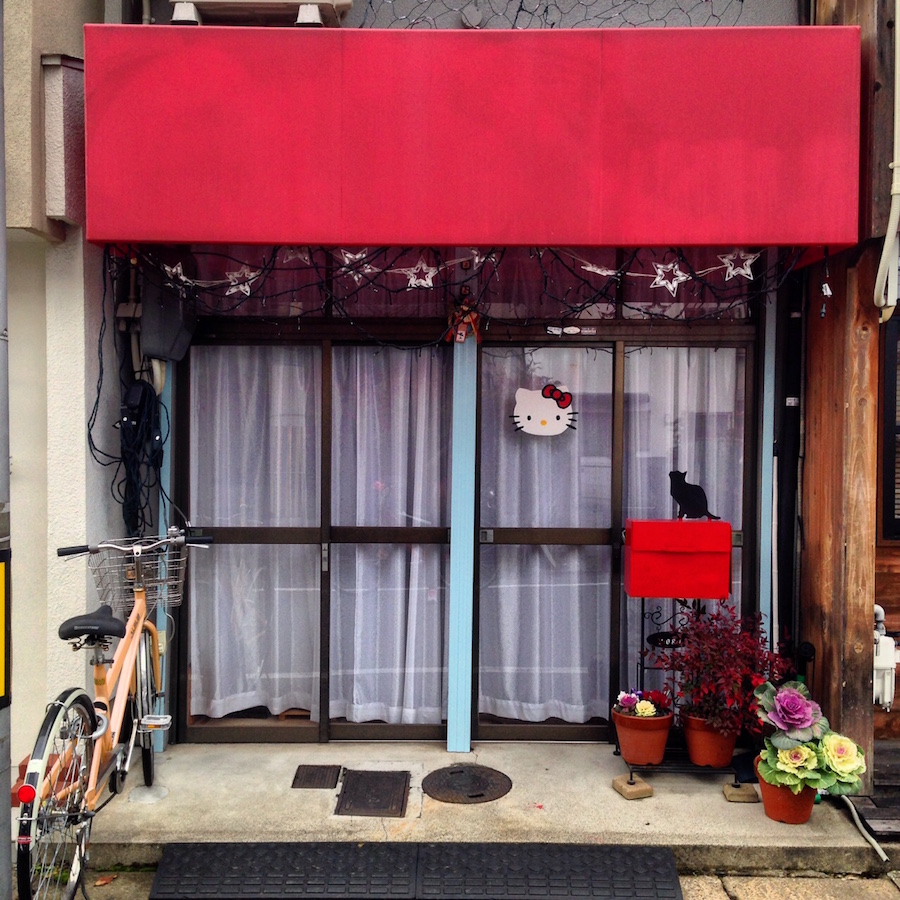 My favourite house
This may more accurately belong to the Small Buildings of Kyoto series, but this is one of my favourite facades in the city. Every time I cycle past I cannot help but think that this would be the perfect starting point for a Ghibli film or slice-of-life anime of some kind. The sliding door itself is perfectly ordinary, but I keep wondering about the person living there who added the unabashed Hello Kitty sticker, the cat on the letterbox, and the fairy lights which twinkle in the dark come nightfall.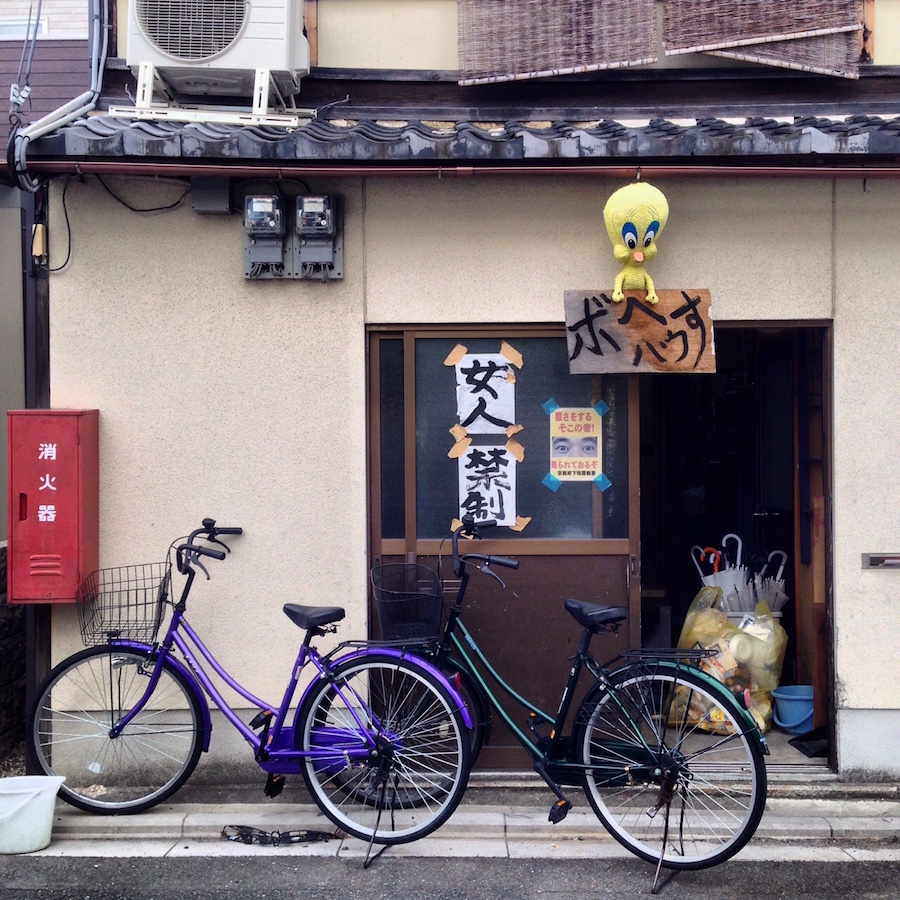 The secret boys club
Who are the denizens behind this door? The papier-mâché (?) Tweety Bird hanging above, the sign in shaky but determined calligraphy that reads: Women Not Allowed. A cluster of bicycles at the front, always bags of rubbish just inside,the door permanently open, even in winter, and the inside always dingy-looking. I once saw a boy in his early twenties, dressed in a grey tracksuit, disappearing into its dark recesses. In more recent times I slowed down on my bicycle, just long enough to see a group of college-age lads gathered 'round a kotatsu with beer, watching television. Some were in suits, some were in T-shirts and shorts. Rowdy laugher seemed to emanate from the long corridor leading to the back of the house; I was reminded of an eels' den. Perhaps they are a secret boys club of some kind. I have not quite worked up the courage to knock on the door and ask.
Florentyna 'Furochan' Leow loves peering at moss-covered rocks and is on a quest to find the best warabimochi in Japan. Find her on Instagram @furochan_eats and instagram.com/doorwaysofasia/ or read her food blog at http://furochan.wordpress.com
If you are considering adding Japanese décor to your home, why not start at the entrance? Adding a touch of Japanese style to this focal point can be as simple as hanging up a bamboo screen or a noren curtain, or as traditional as installing a sliding wooden door. Take a look at the ZenVita Entrance Gallery for more inspiring entryway ideas, or contact us for further design suggestions and a free consultation.