Since September 2015, photographer John Einarsen, has been using his iPhone and the Kyoto Journal Instagram account, to document the incredible variety of small buildings in Kyoto. In this special article for ZenVita, he explains his fascination with these simple urban structures.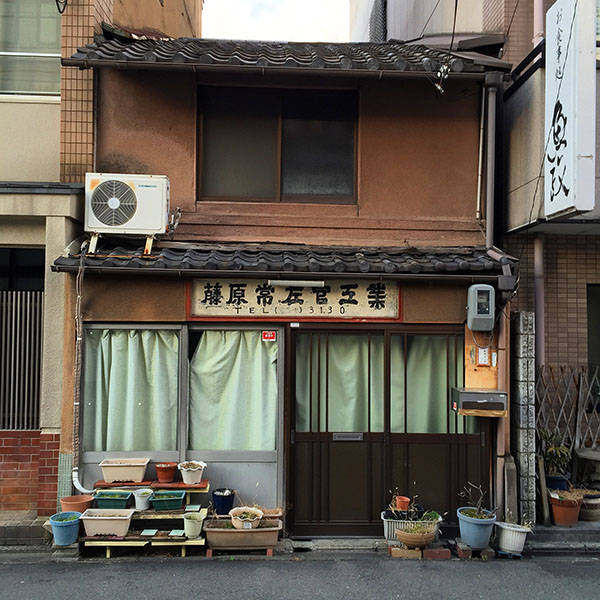 My photographic series 'Small Buildings of Kyoto' originated in two earlier projects. The first, In the Realm of Bicycle documented bicycles found on my commutes to and from work in the city of Kyoto, revealing personalities and histories that were both mysterious and familiar. The second was a collection of photographs of the façades of narrow dwellings in the old Hoan Kiem quarter of Hanoi. It was a delight to study them and find order amidst their juxtaposed architectural styles, the chaotic street activity surrounding them, their peeling paint, vivid colors and inconceivable tangles of electrical wires.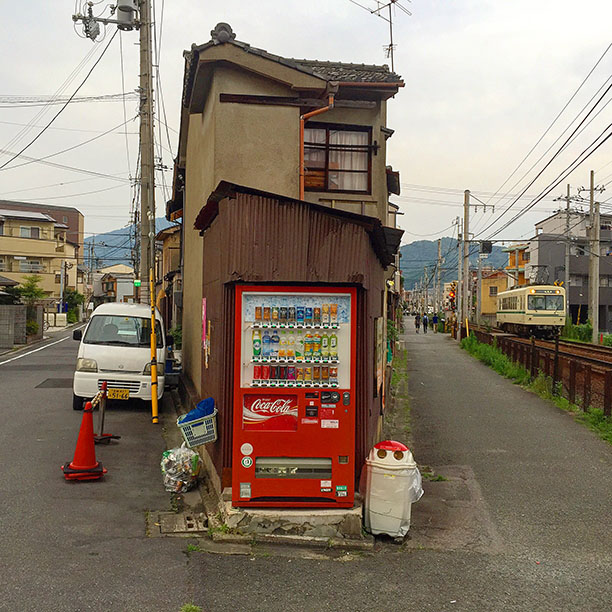 House with vending machine
Those works prepared the ground for this series — focusing mostly on homes, shops or small businesses, and a teahouse or two from local Kyoto temples. I have no architectural training, nor do I have any particular interest in urban design, yet I became aware of these structures' charming ordinariness and visual richness during my daily commutes, so I began to record them for Kyoto Journal's Instagram account.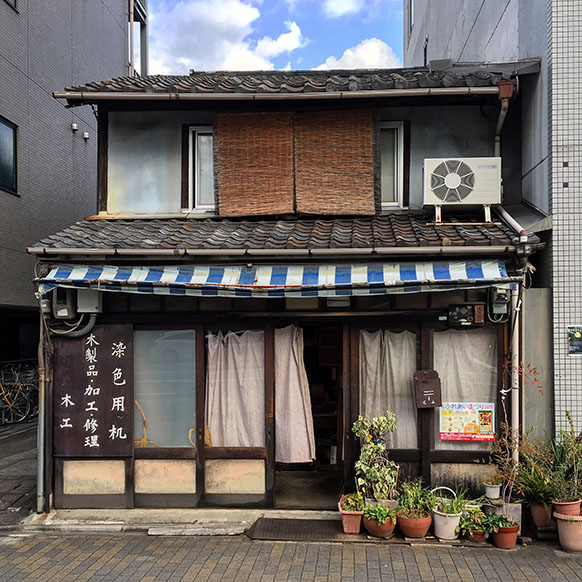 Shop for dyeing implements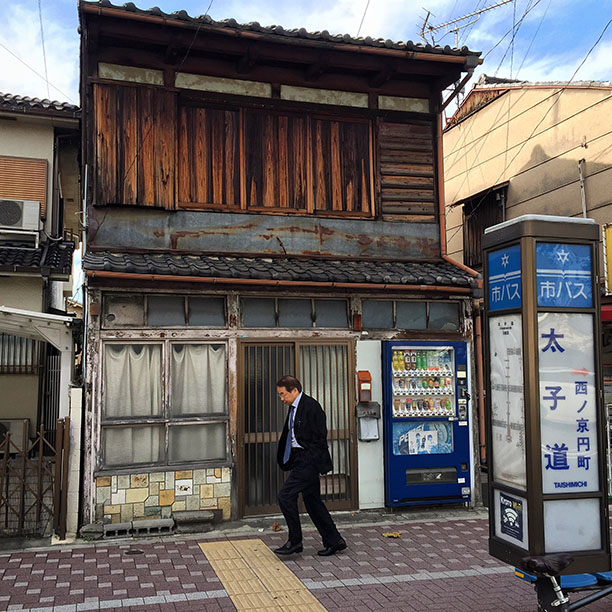 House not long for this world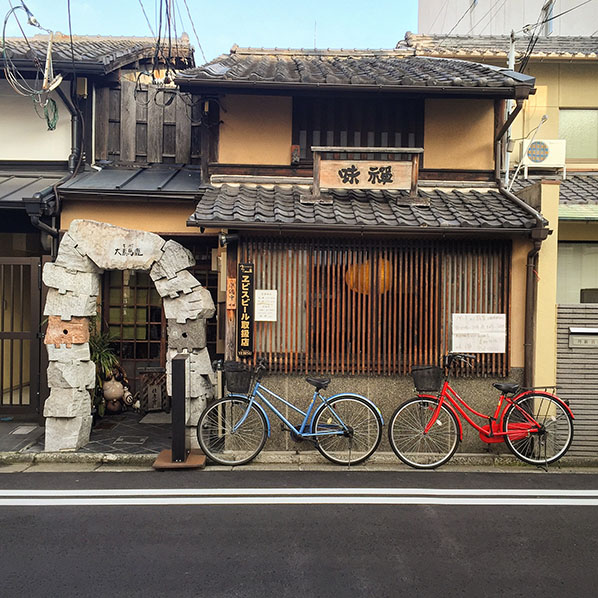 Soba eatery with red and blue bikes
The buildings represent common styles from the Taisho era, a hundred years or so ago, to the present. Most stand no taller than three stories; I like to include a passerby to give a sense of scale. They are not notable, except to the families and communities they serve; you could easily pass them by without ever noticing them. Yet each has acquired a distinct personality, resulting from histories of maintenance or non-maintenance by their inhabitants, the attachment or removal of fixtures such as air-conditioners, lamps, vinyl awnings or signs, from renovations and decades of weathering. Their surfaces attract posters advertising politicians, kabuki performances, beer or saké, art exhibitions and special temple openings. They often have intricate relationships with bicycles, vending machines and small gardens of potted plants. I find them endlessly fascinating. The way they pass their day-by-day span of existence seems much like the process of our own human lives.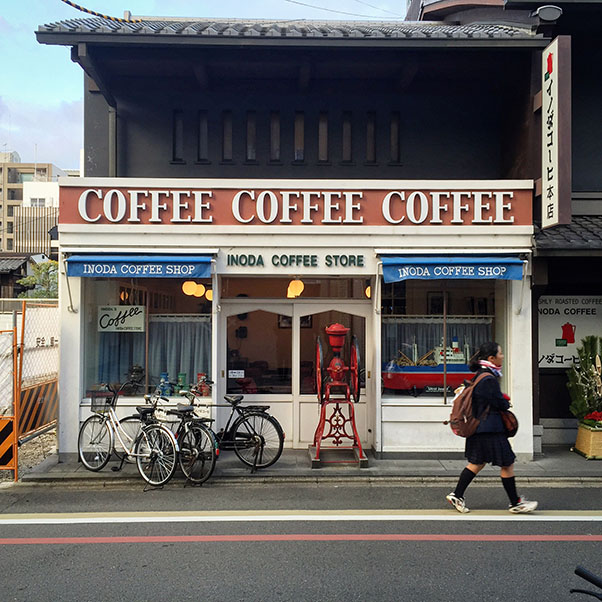 Annex for Inoda's, one of Kyoto's oldest coffee houses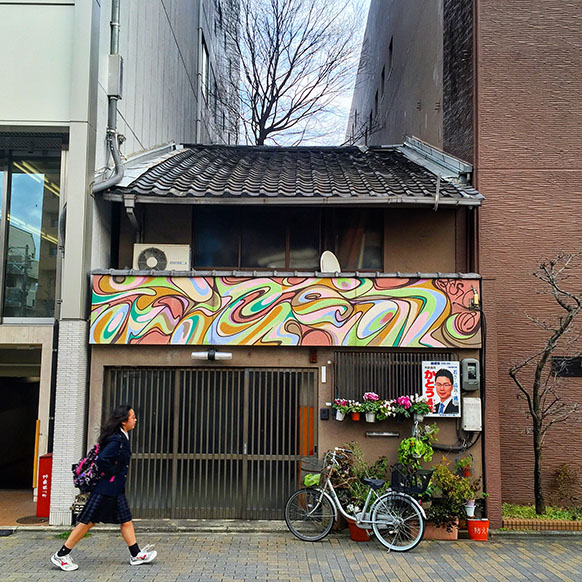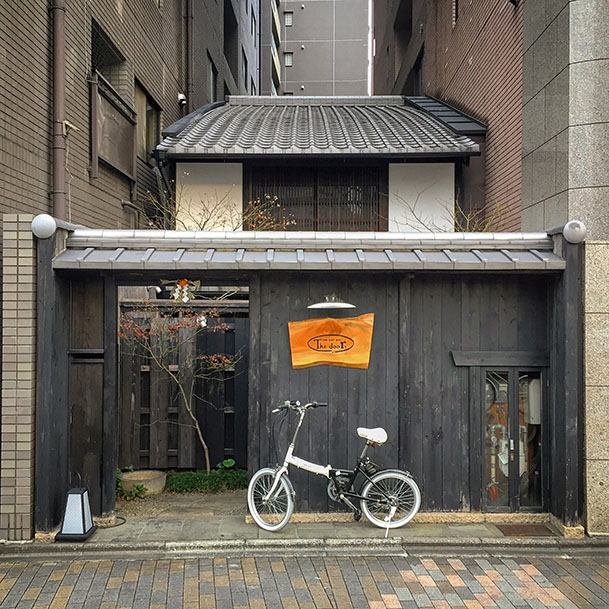 One-shot bar "The Door" stubbornly stands between large apartment complexes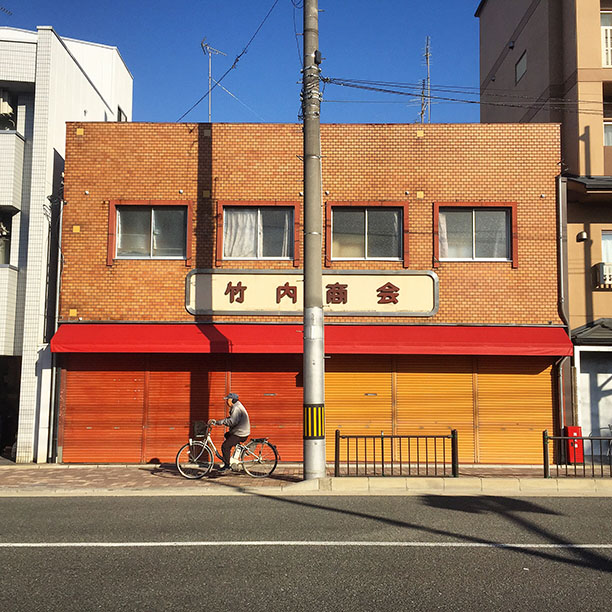 Because the iPhone lens can separate a wide range of tones and capture fine detail, the buildings in the images feel almost like miniatures, which perhaps add to their appeal. Yet I believe their charm lies more in the contentedness with which they seem to occupy their sites. To best describe them in a single word, I would choose "modest." For me, it is their modesty that makes them so compelling.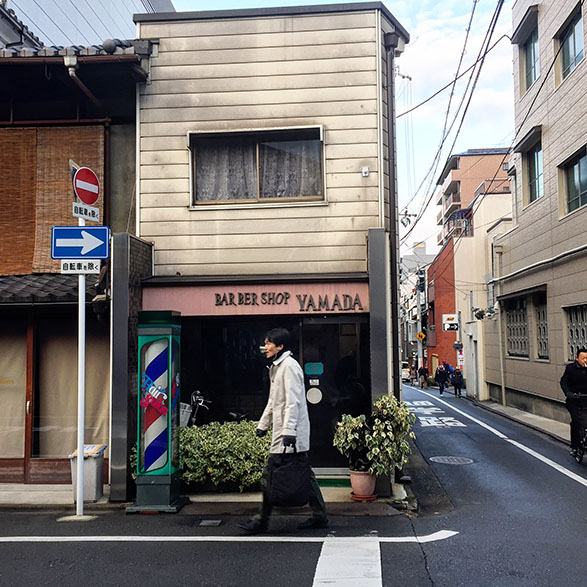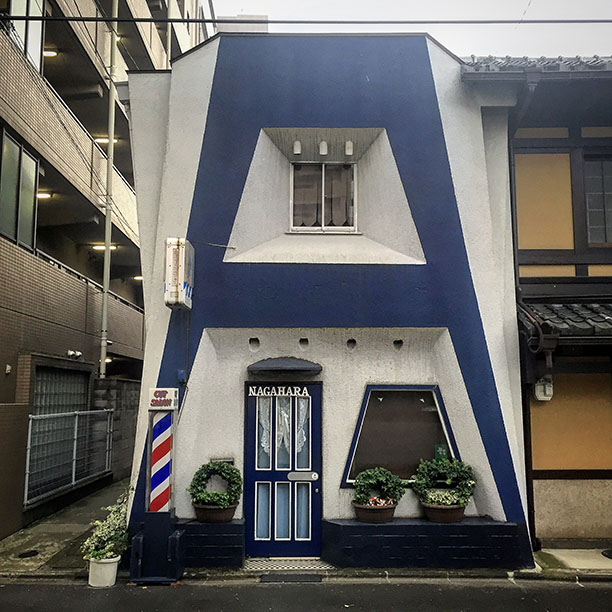 Classical Guitar Classroom for some reason the sign is written backwards, probably to attract attention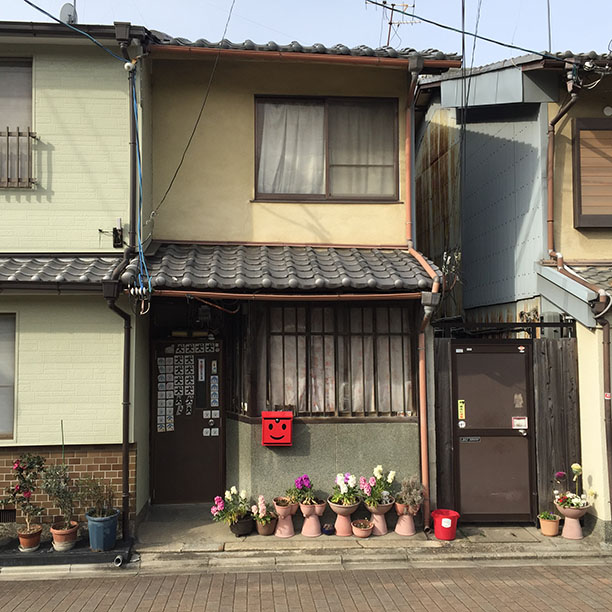 House with smiley-face mailbox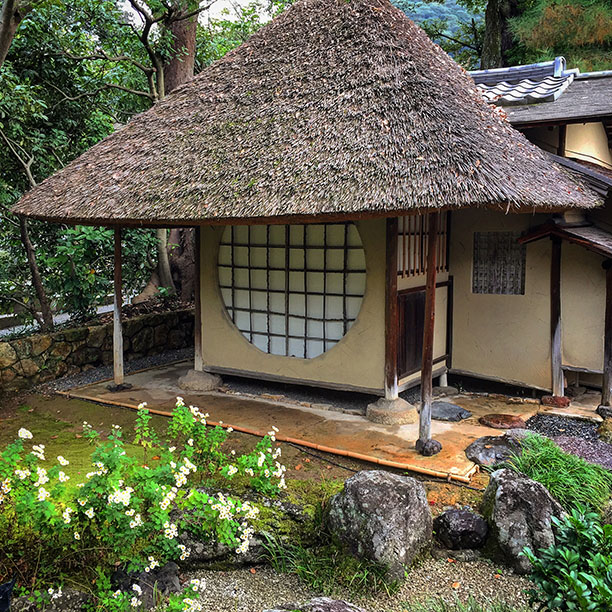 Lho-an teahouse (Cottage of Lingering Fragrance)
Kyoto is famous for its masterpieces of Japanese architecture, including many listed as National Treasures, Important Cultural Properties and World Heritage. Yet when visitors ask me what to see, I often recommend just walking or cycling aimlessly through Kyoto's backstreet neighborhoods, that special domain of the modest magic of the ordinary.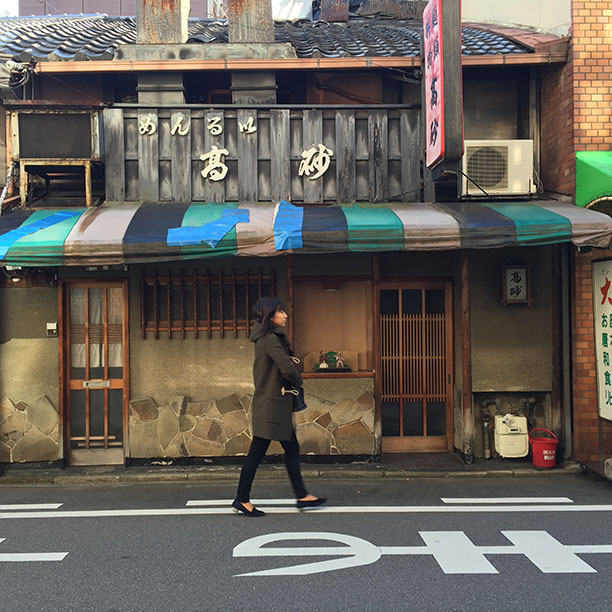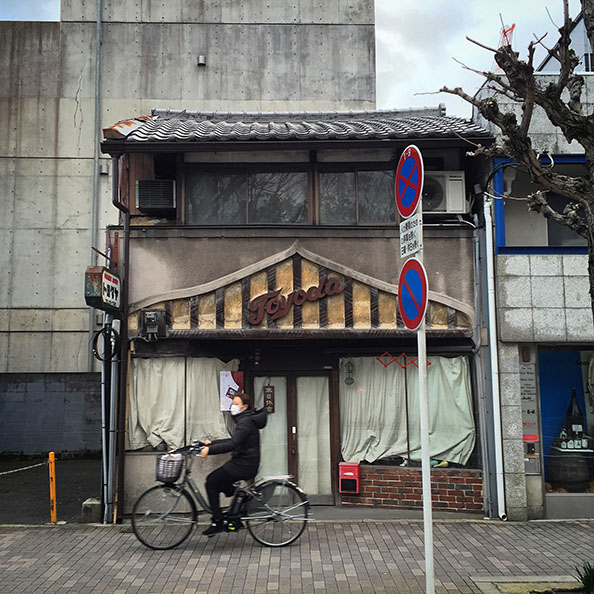 Toyoda, shop for antiques and assorted odds-and-ends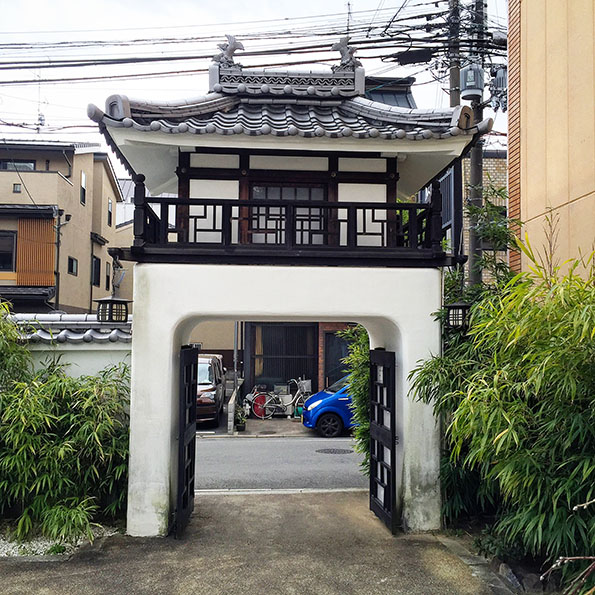 Gate to the Zen temple Kanga-an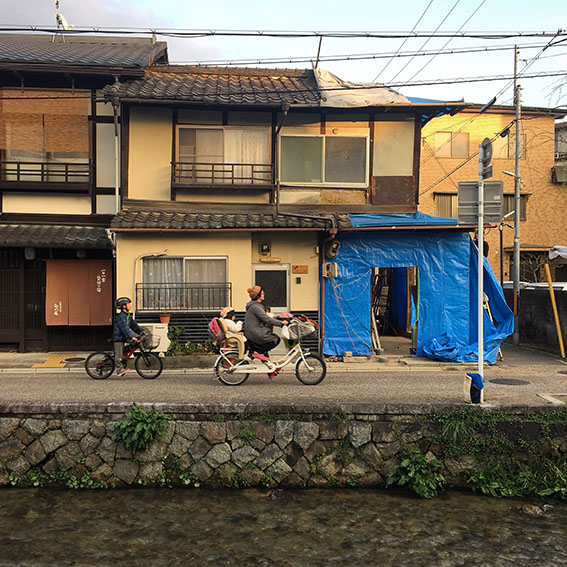 Many houses in Kyoto are being renovated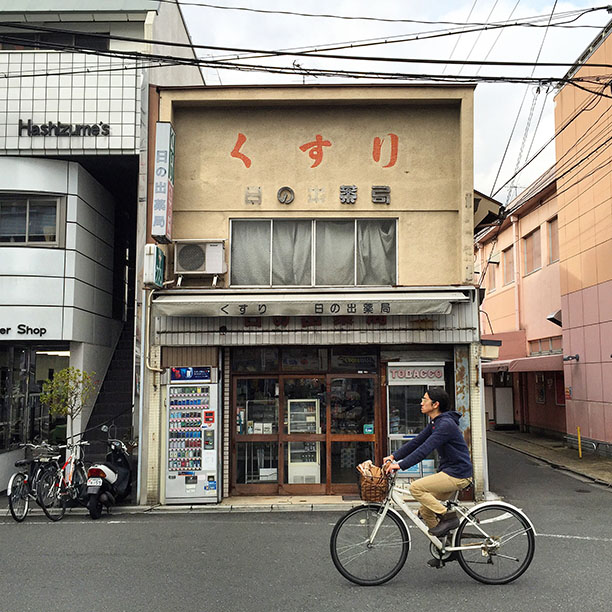 John Einarsen is the founding editor of Kyoto Journal and author of Kyoto: The Forest Within the Gate, a book of black-and-white photographs with poetry by Edith Shiffert. You can follow his ongoing Small Buildings in Kyoto project on the Kyoto Journal Instagram account.

See also: Doors of Kyoto: A Photography Project by Florentyna Leow

Looking for inspiration? ZenVita offers FREE advice and consultation with some of Japan's top architects and landscape designers on all your interior design or garden upgrade needs. If you need help with your own home improvement project, contact us directly for personalized assistance and further information on our services: Get in touch.