Akitoshi Ukai's designs are a photographer's dream. Simple and sparse, they exist by the logic of their own geometry, where angles incorporate windows that magically throw triangles of light on vast rectangular inner surfaces. Staircases curl around corners, or diagonally break space between beams. Floors are made of wood, their planks running in tandem the length of a room. Squared shelving mimics picture frames, a metaphor I suppose as the books and objects they contain are a reflection of the owner.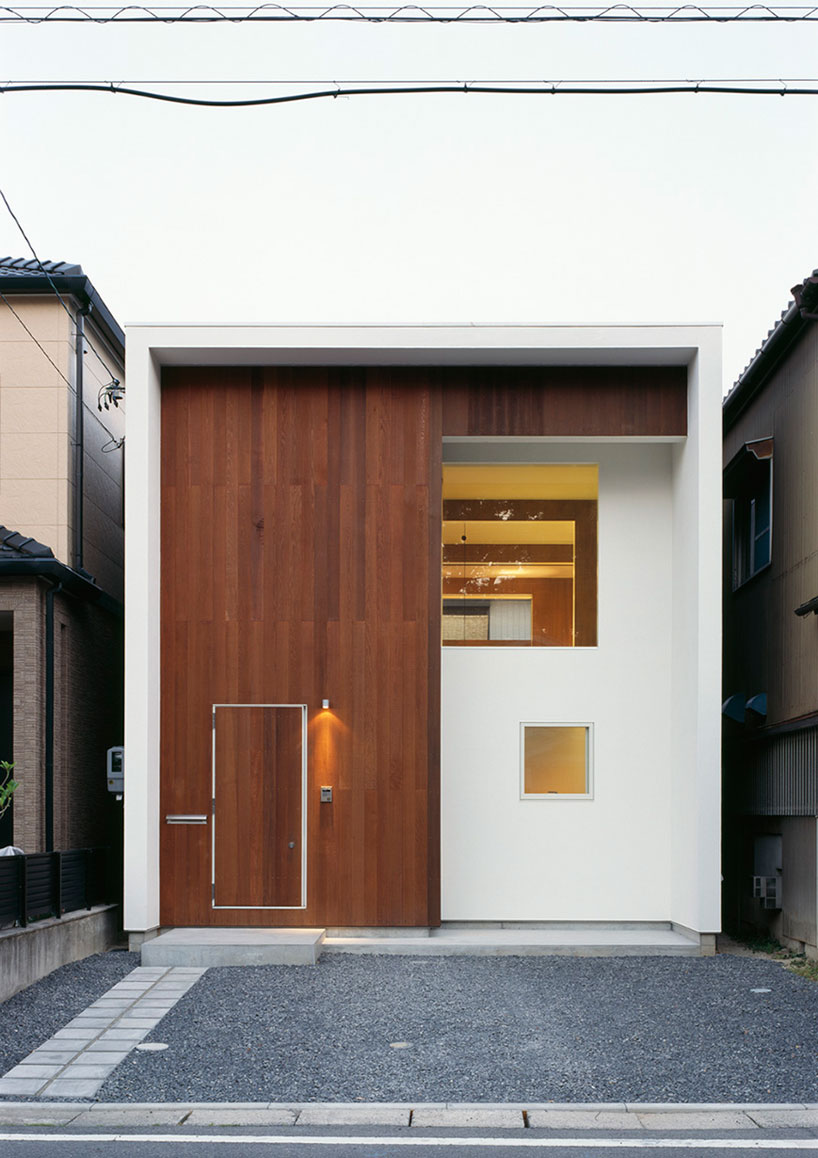 WBE Haus

The first impression one gets when looking at one of Ukai's structures is how simple and practical they are. These two adjectives are perhaps the most overused when being applied to Japan design, but they are equally apt in relation to Germany. And that nation somehow kept popping into mind as I did more research on Ukai's works, right down to the man's profile photos, which show him wearing plain black clothing in the manner of a Euro-bohemian.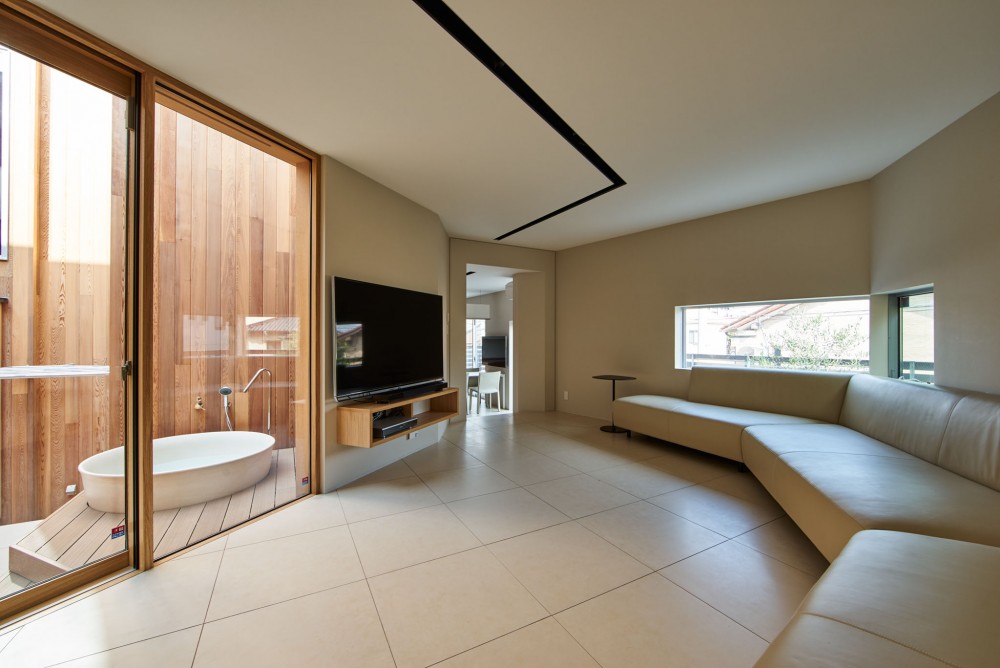 Szk Haus interior

Very generally speaking, I've always felt that, if using the metaphor of Europe, the Japanese are not unlike the English, both peoples having come to rely on a civilized politeness to help temper their living on a crowded and confined island that sits uncomfortably close to the potentially threatening neighbors of the mainland. Yet speaking internally, the Japanese can be quite like the Germans, namely in their stoic reserve in regard to self-expression and in their approach to work.

The German connection becomes even more apt when looking at the cities of Nagoya, where Ukai grew up, and Osaka, where he did a Master's degree in environmental engineering. Both places were devastated during the Second World War, and subsequently rebuilt in a no-frills way that allowed residents to focus mainly on what they always had; namely the technology of Nagoya and the network of small-scale trade that gives Osaka its character. These find direct parallel with Germany's own industrial cities, rebuilt for the purpose of a no-nonsense attention to work and the frugality of life that serves as by-product.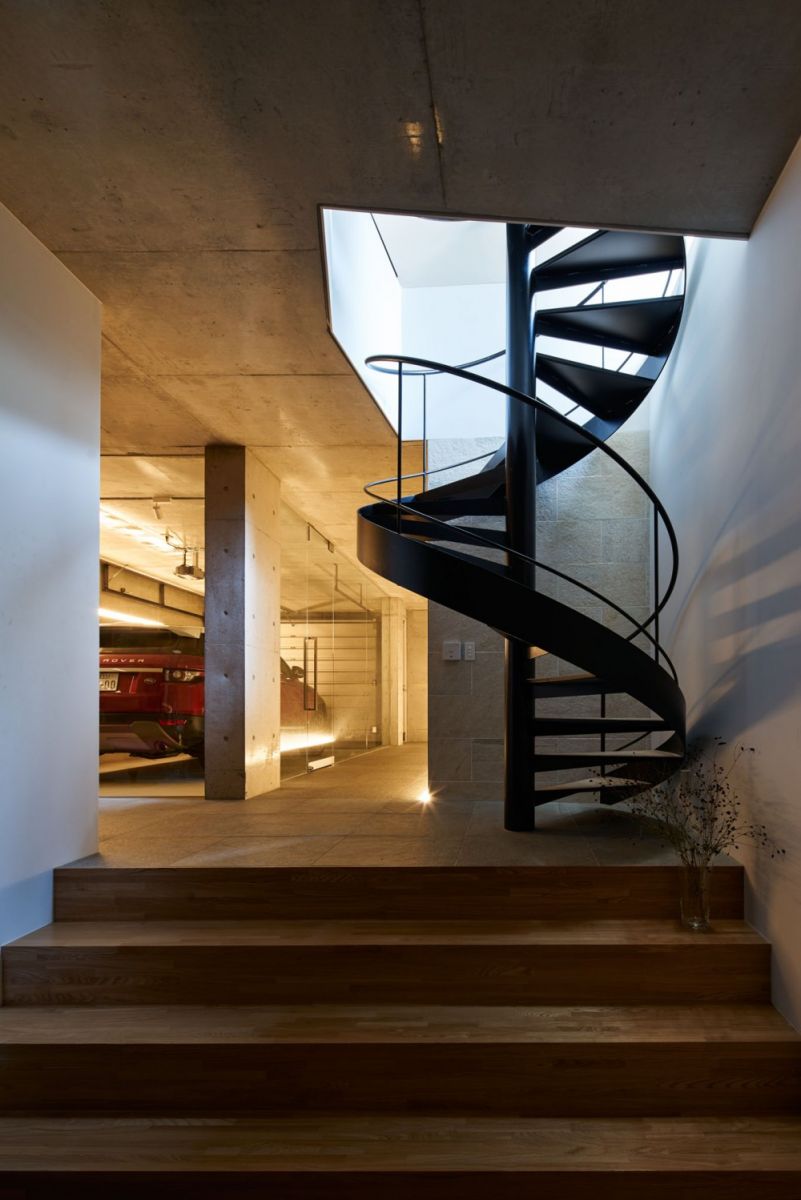 Szk Haus interior - a spiral staircase that just suddenly appears

Ukai's designs exemplify this principle perfectly. There is in his work an unmistakable resemblance to the Bauhaus school, and even the names of his designs use the German appendage of haus. Bauhaus was founded just after German's loss in the First World War, with a philosophy that (according to Wikipedia) "art should meet the needs of society and that there should be no distinction between form and function." In addition, the style "was marked by the absence of ornamentation and by harmony between the function of an object or a building and its design." To the visitor of the superficially drab cityscape of Nagoya or Osaka, this sounds about right.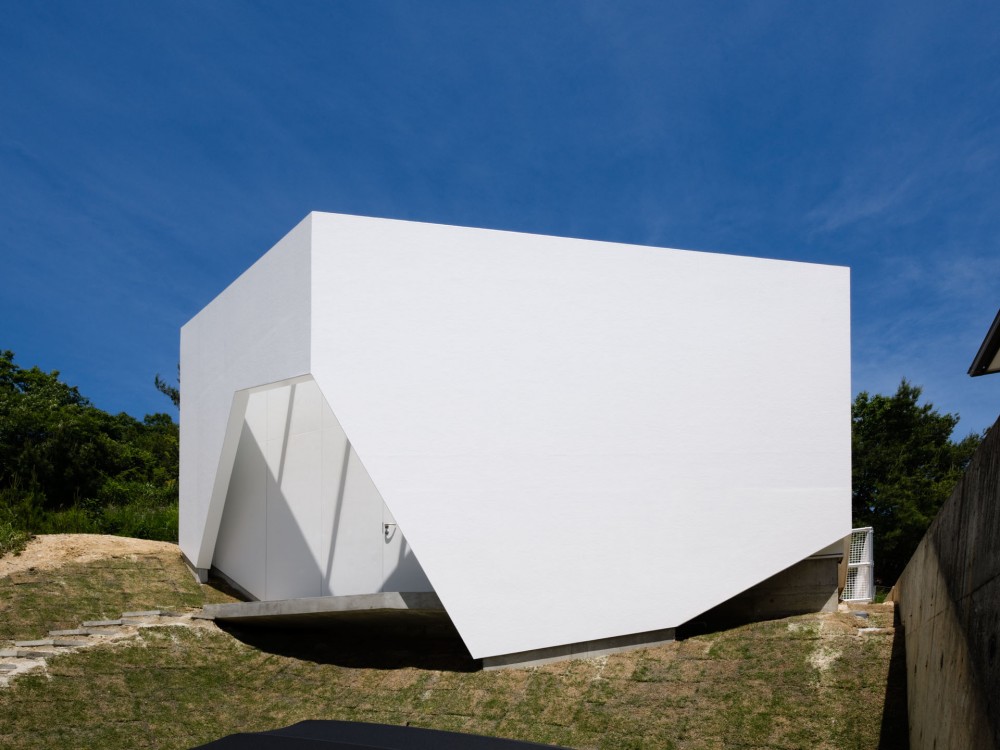 Ysy Haus

Not to say that Ukai's designs are dull. The exterior of the Ysy Haus looks like a preschooler's drawing of the typical house, yet turned upside down. The copious amount of light emitted through the well-disguised windows is a life-affirming touch, like the perpetually bright sunny days of a child's imagination.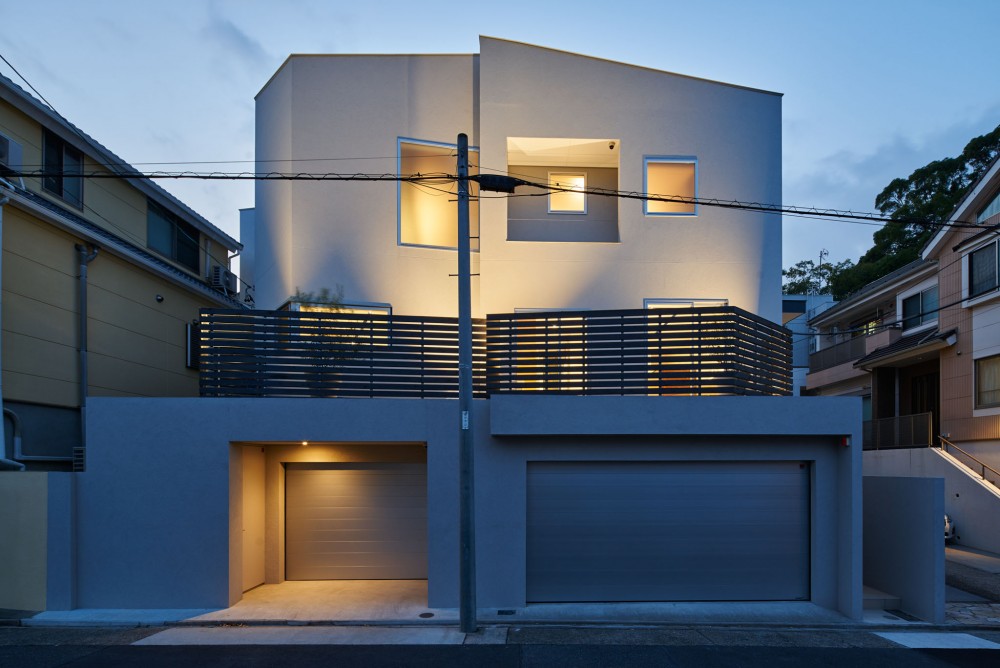 Szk Haus

His Szk Haus also takes a playful approach to geometry, in turning things inside out. From the street it looks like a doll's house, bisected and partially opened. A glass-enclosed bathtub juts out into a courtyard within, seemingly open to the sky. And the straight lines of the interior are teased by a spiral staircase that just suddenly appears.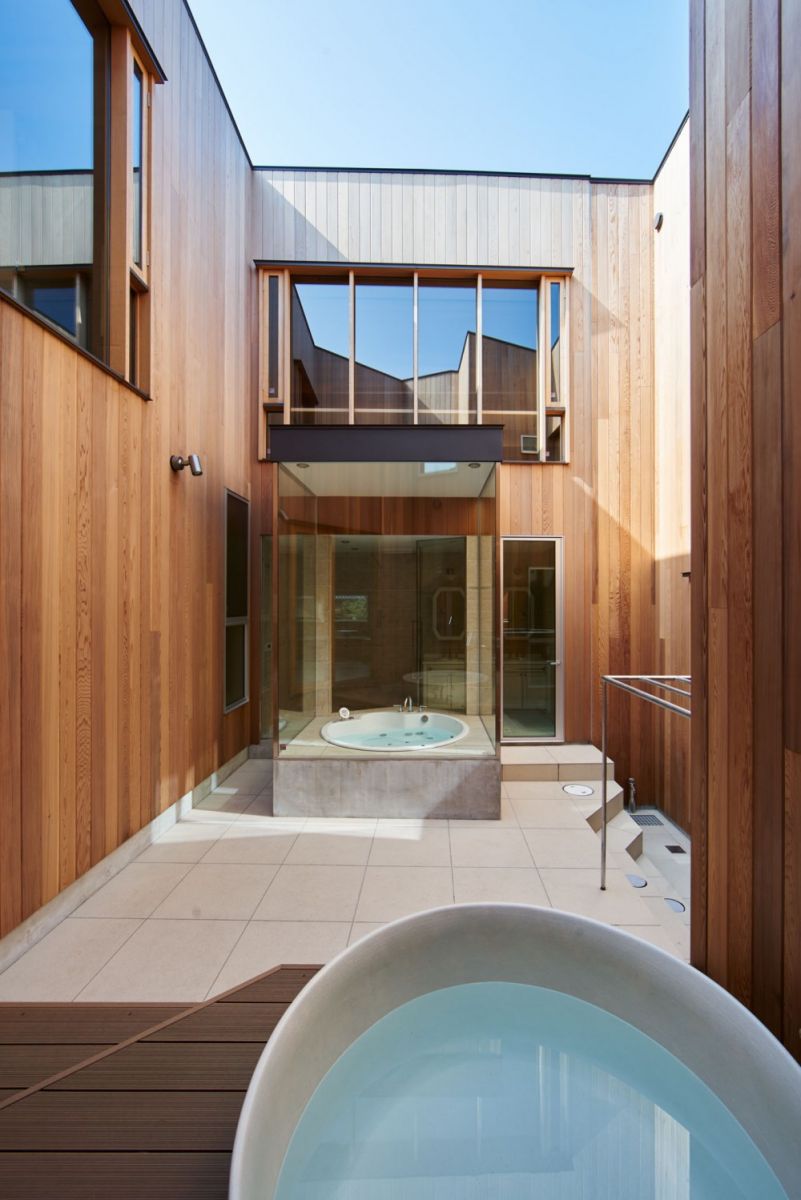 Szk Haus

Yet Ukai can also pay tribute to more traditional Japanese design tropes. The Wat Haus appears from the street to be a typical Japanese house, of simple wood flourishes and rectangular walls colored in natural hues. Within are the familiar shoji screens that divide spacious rooms laid out and measured by tatami mats. Large windows in the living room look out onto a garden, whose grandest feature is a long brook that babbles between the stones. Yet above this, is Ukai's punchline, where the roofline along the back of the structure suddenly sprouts upward in an array of shapes familiar from his other designs. Therein lies Ukai's nod to the truer fullness of the Japanese character; that behind a seemingly pragmatic facade of stoic reserve lies a fuller sense of life rich with humor and hidden surprise.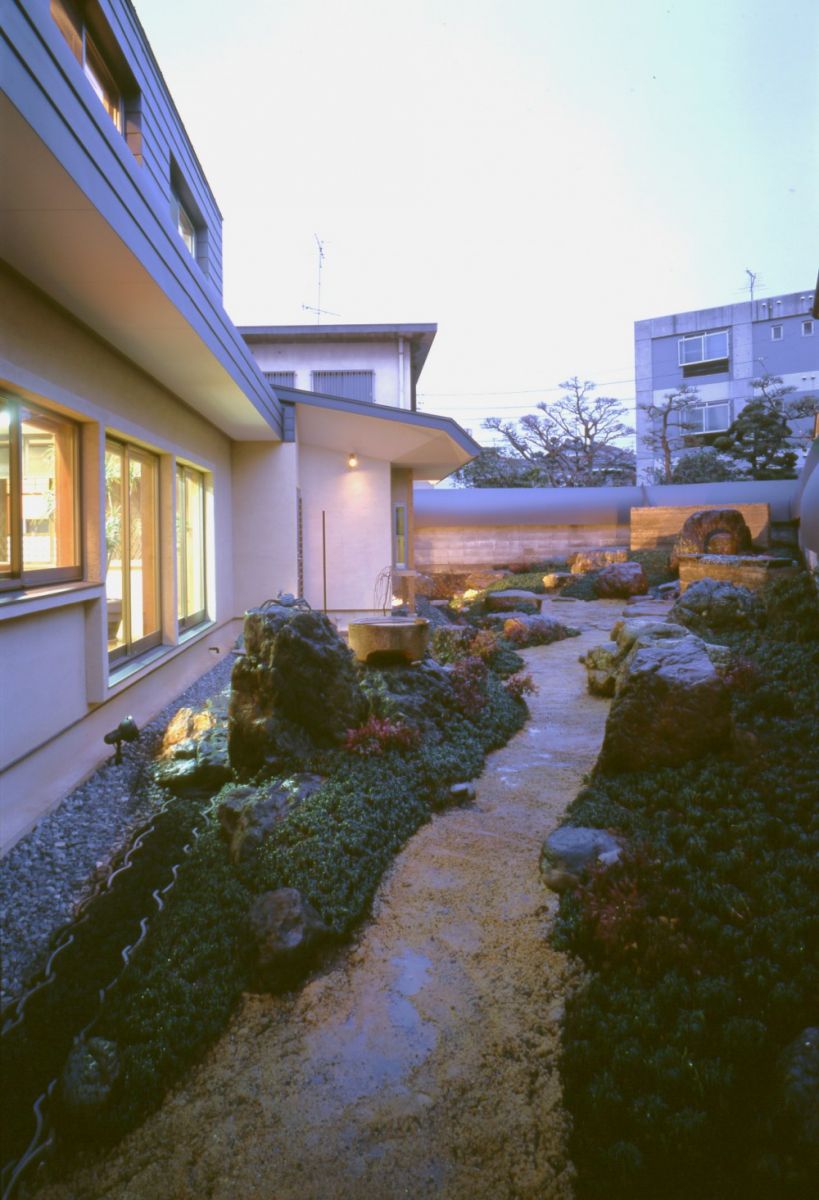 Wat Haus garden

Akitoshi Ukai is a ZenVita associate architect and available to design your home interior! Read more about his work at the Akitoshi Ukai profile page.

Edward J. Taylor is a writer and editor based in Kyoto, Japan. Previously he has written for ZenVita on the architecture of Kenzō Tange, Kengo Kuma, Shigeru Ban, Kazuyo Sejima, Junya Ishigami, and Toyo Ito.

For more innovative designs from Japanese architects visit the ZenVita Projects page. ZenVita offers FREE advice and consultation with some of Japan's top architects and landscape designers on all your interior design or garden upgrade needs. If you need help with your own home improvement project, contact us directly for personalized assistance and further information on our services: Get in touch.