In preparing for an upcoming trip to Rome, I watched an episode in the documentary series, "What the Ancients Knew," and was amazed at the intricate and extremely difficult technique of Cameo glass. This form of glass art involves carving and etching through multiple layers of glass in order to create textured shapes and designs. It is craftsmanship that leaves no margin for error even with modern day tools, yet incredibly, the Romans were hand-producing this glass as early as 30 BCE.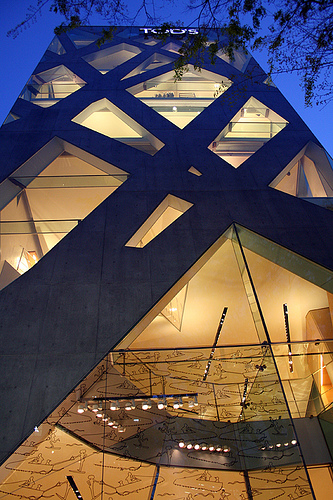 TOD's Omotesando Building, Tokyo, (2004). Image by Flickr.com user "d'n'c" (CC BY-SA 2.0)
With those images still in my head, I was walking down Tokyo's Omotesando Boulevard and I thought that the TOD's Omotesando Building seemed to have been built along the same principles, albeit as expressed in architecture. I became curious as to whether the architect had studied abroad, and perhaps had been influenced by foreign design.
A Japanese-national born in Seoul, Korea during the Second World War, Toyo Ito's education was all Japanese. After returning to Japan at the age of two, Ito professes to have had no early interest in architecture, and it wasn't until he was studying at the University of Tokyo that his interest began. He began working for Kikutake Architect and Associates in 1965, until starting his own firm six years later. Ito began initially to design private residences, and from his earliest works, these minimalist homes began to garner him a great deal of attention. He explained that this minimalism was an attempt to develop a lightness in architecture in a way that resembled air, and its movement as wind.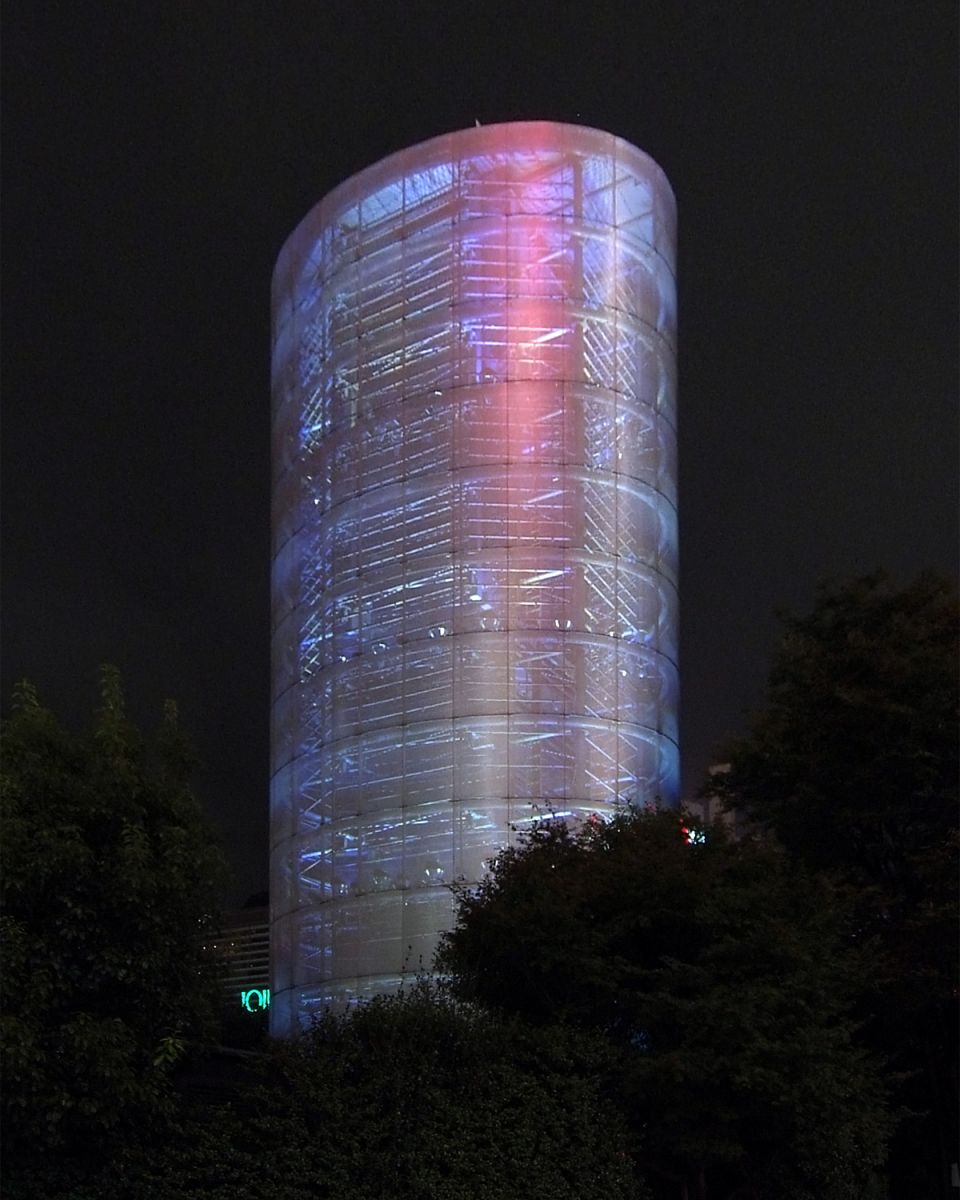 Tower of the Winds, Yokohama, (1986). Image by Wiiii (CC BY-SA 3.0)
These ideas reached fuller fruition with his later commercial designs, including most obviously Yokohama's Tower of Winds. His Nagaoka Lyric Hall literally sweeps across the hillside on which it stands. Singapore's VivoCity is wind etched in neon. The twin structures of the Torre Realia BCN and Hotel Porta Fira, L'Hospitalet de Llobregat in Barcelona, Spain spiral upward as if upon a whirlwind.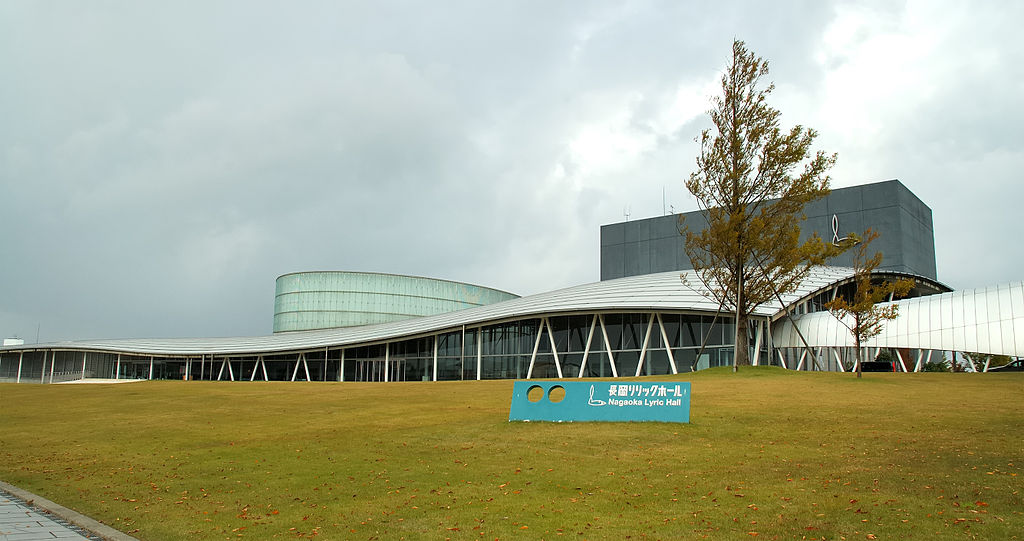 Nagaoka Lyric Hall, Nagaoka (1994). Image by Kropsoq (CC BY-SA 3.0)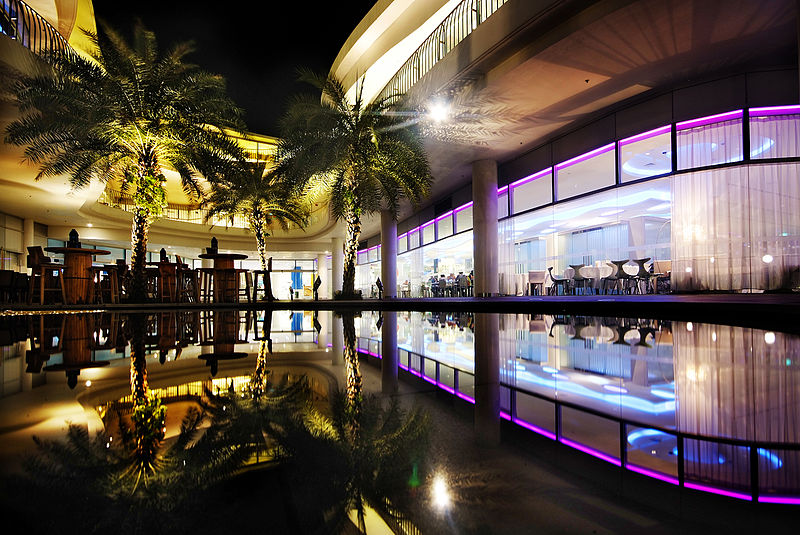 VivoCity, Singapore (2006). Image by William Cho (CC BY-SA 2.0)

When discussing Ito's work, 'fluidity' is the word that most quickly comes to mind, and few things are more fluid than glass. His buildings not only give form to what is there, but also emphasize what is not. At night, the play of internal light makes the symmetrical structure seemingly dissolve, revealing forms more commonly seen in the perfect asymmetry of nature. When the lights come on, the TOD's building is suddenly a forest of trees.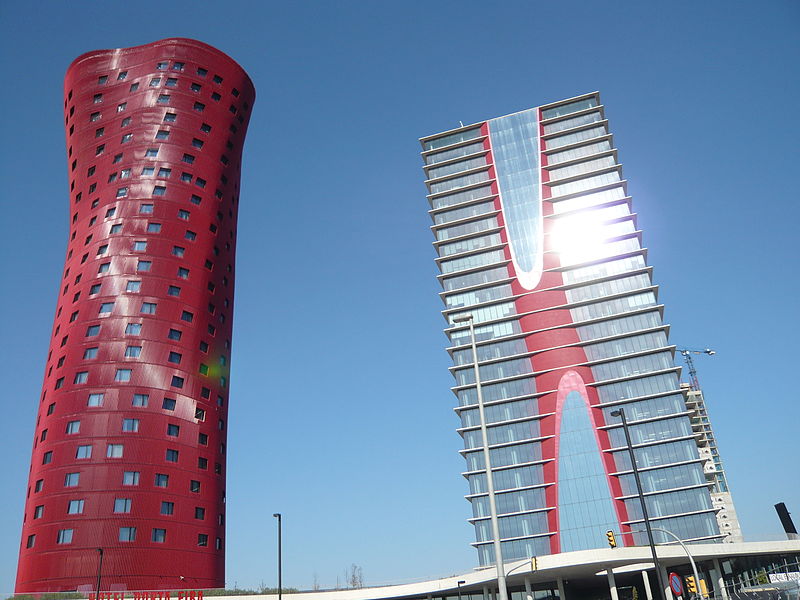 Torre Realia BCN and Hotel Porta Fira, L'Hospitalet de Llobregat, Barcelona, Spain (2009). Image Würfel (CC BY 3.0)
My own work and hobbies allow me a great deal of time spent outdoors, and I am often struck by the diffuse texture of the Japanese landscape. Ito's designs perfectly capture this texture, having brought to the cities the rural influence of a childhood spent in mountainous Nagano prefecture. One can't help but stop and pause at the Mikimoto Ginza 2 building, as the unique design is something rarely seen in an urban environment. In cities, most elements are static, but Ito's seemingly teem and move. And with movement comes evolution toward something greater, to the ideas and concepts upon which the physical structures were conceived.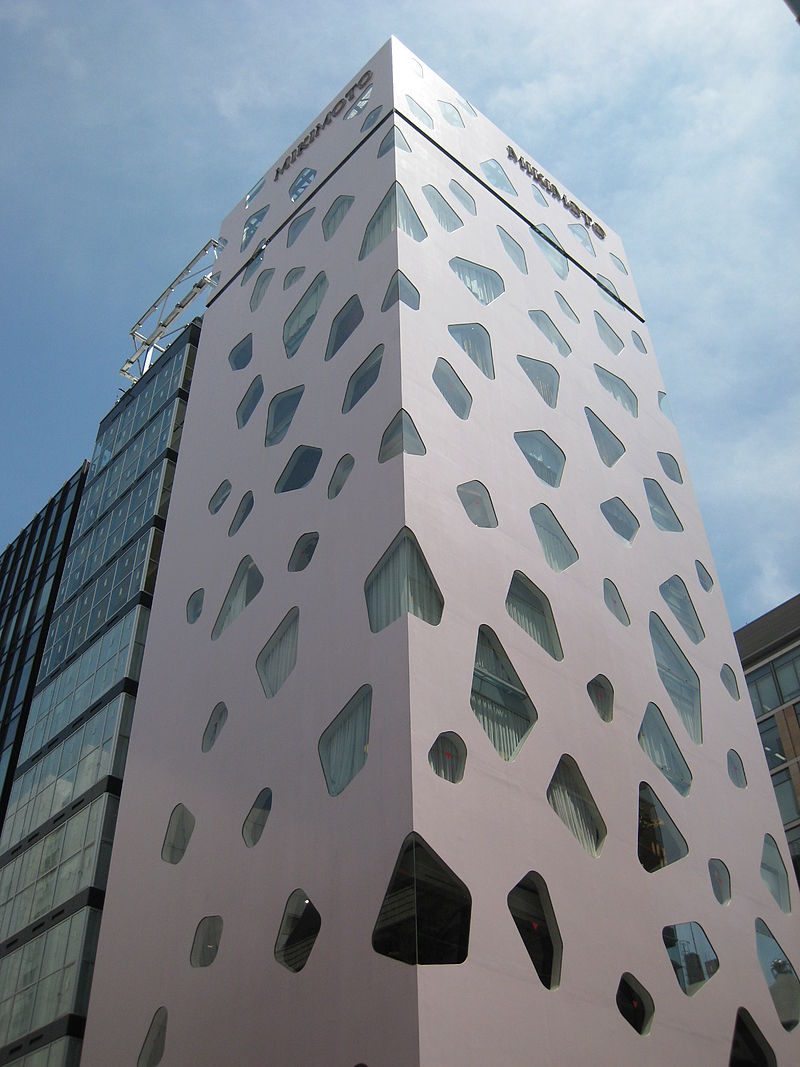 Mikimoto Ginza 2, Tokyo, Japan (2005). Image Oiuysdfg (CC BY-SA 3.0)
Like most Japanese architects, Ito was profoundly affected by the 2011 Tohoku earthquake and tsunami. Along with many of his contemporaries, he became involved with the concept of "Home-for-All," where survivors are sheltered in structures that both induce a feeling of community and encourage interaction, thereby instilling humanity in its residents. This work led to Ito being awarded the Pritzker Prize in 2013, after having been short-listed for at least a decade. This international recognition seems fitting since Ito's most recent work continues to deemphasize a structure's outer layers, in an attempt to convey a sense of an existence beyond borders. In this, perhaps Toyo Ito shares a vision with those ancient Roman glassmakers after all.
---
Edward J. Taylor is a writer and editor based in Kyoto, Japan. Previously he has written for ZenVita on the architecture of Kenzō Tange, Kengo Kuma and Shigeru Ban.

For more innovative designs from Japanese architects visit the ZenVita Projects page. ZenVita offers FREE advice and consultation with some of Japan's top architects and landscape designers on all your interior design or garden upgrade needs. If you need help with your own home improvement project, contact us directly for personalized assistance and further information on our services: Get in touch.