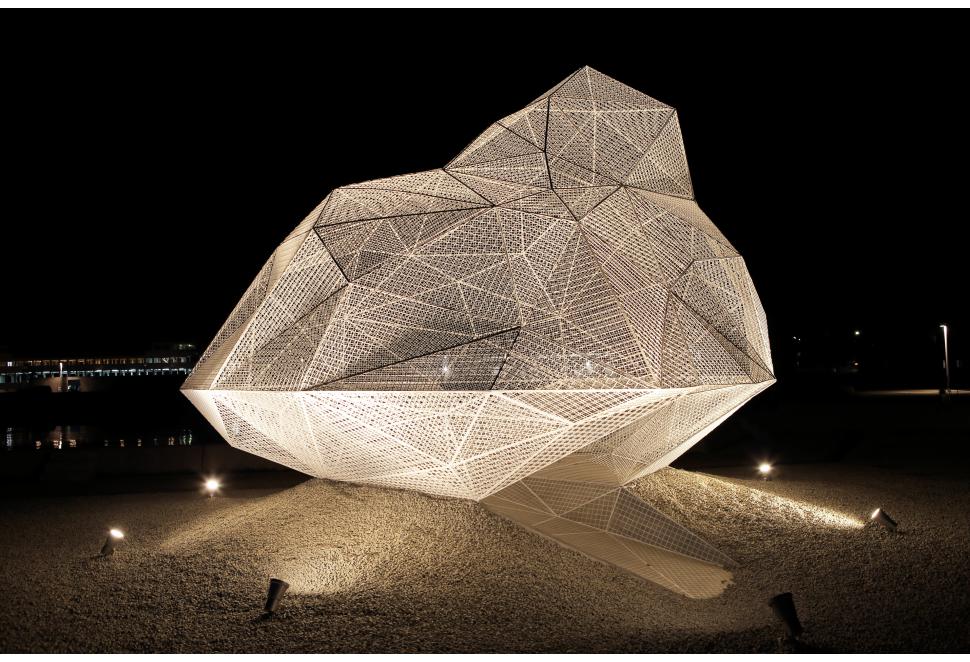 Naoshima Pavilion by Sou Fujimoto; Image © Jin Fukuda; Source: Setouchi Triennale 2016
The art islands of Japan's Inland Sea are world-renowned for hosting some of the country's most interesting art installations. These structures are purpose built to be interacted with, with the viewer becoming part of the installation. The most extreme example is the Benesse House, which invites guests to stay the night in an actual museum on the island of Naoshima. Over the past decade the island has become the Inland Sea's crown jewel.
Naoshima, and a dozen other islands, are host to the Setouchi Triennale 2016, which continues until November 6th. A stone's throw from Naoshima's harbor is a new piece by young architect Sou Fujimoto. His Naoshima Pavilion is a veritable boulder of metal-mesh, which invites the viewer to climb inside to photograph or be photographed. (Try not to entangle your selfie-sticks!)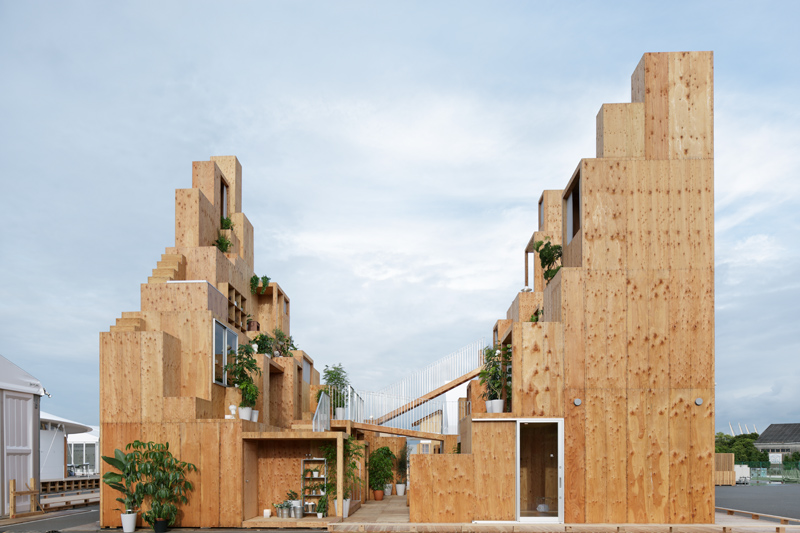 Rental Space Tower by Daito Trust Construction and Sou Fujimoto. Source: HOUSE VISION 2
At a young forty-five, Fujimoto is a relative newcomer to the Japanese design world, having already completed buildings on four continents, as well as having been named for Wall Street Journal 2014 Innovator Awards, for architecture. A 2013 project in London's Kensington Gardens saw the creation of the Serpentine Gallery Pavilion, a playful jungle gym for adults. The multi-level nature of this work reminds the viewer of MC Escher, none more so than a design he did in August 2016 for Daito Trust Construction, for a proposed shared living space.
One has to appreciate the irony of this, in a project envisioned for harmony between residents, yet whose physical manifestation is multi-tiered.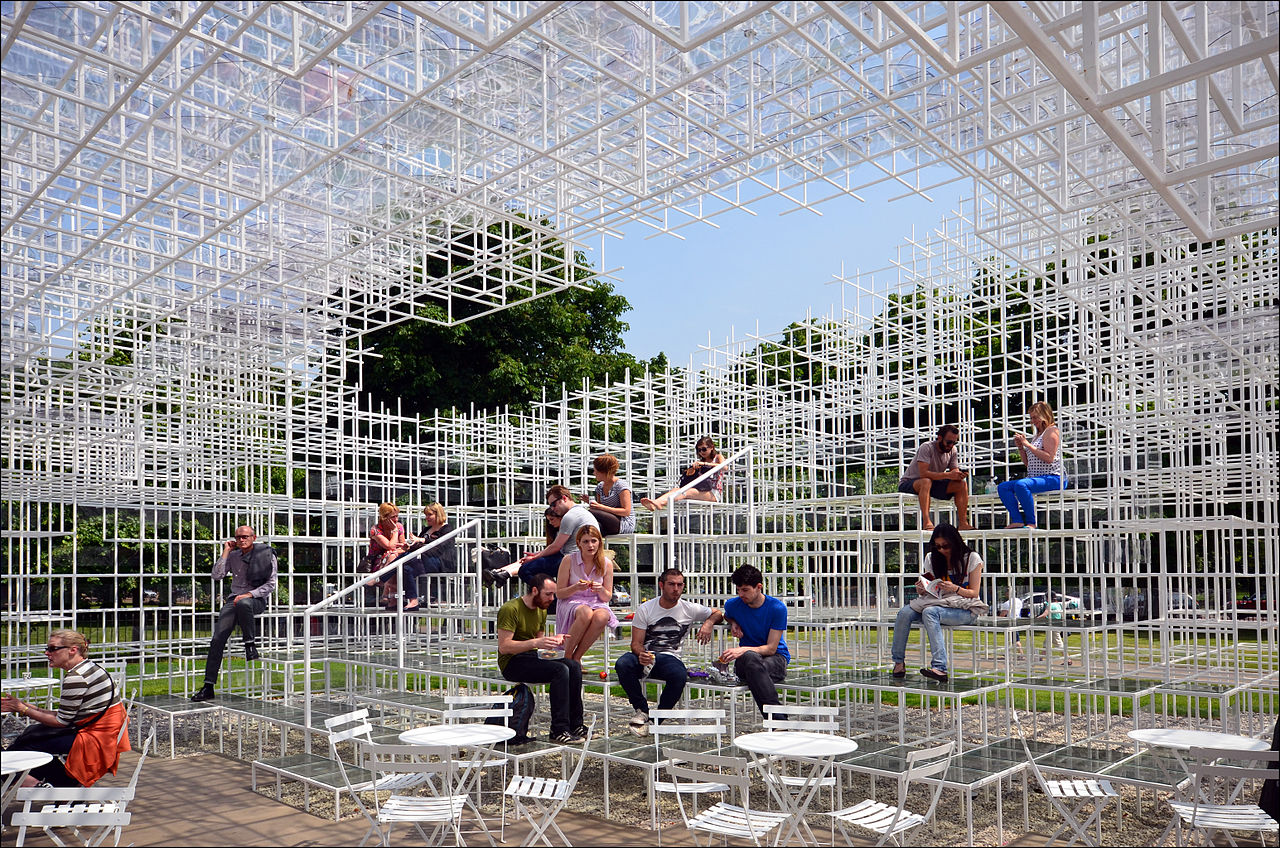 The Serpentine Pavilion; Image © George Rex (CC BY-SA 2.0)
There is a certain sense of play here and in all his projects, as befitting Fujimoto's youth. There is also a great deal of thought put into the future of design. With each project, he examines and builds upon his previous works, revealing a familiarity with the history and principles of architecture itself, as a means of creating a foundation from which to innovate wildly. He sees this as an organic process, like a seed germinating into something bigger.
Giving supremacy to nature is perhaps Fujimoto's most clever subversion of the usual modern Japanese architectural principles, and his designs attempt to bring nature into an already built-up environment. For far too long the opposite has been the norm, resulting in the jumbled eyesores that are Japanese cities. He has been known to call Tokyo an artificial forest, into which he hopes to introduce elements of the true forests of his native Hokkaido, in a concept he calls "primitive future."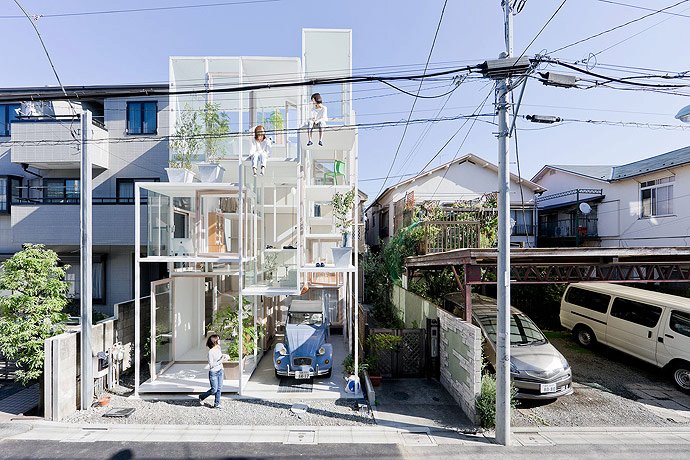 House NA; Image © Iwan Baan
This of course is asking a great deal of the clients, who will need to radically modify their ideas about what defines comfortable living. Finding a new definition for comfort would then lead to a new relationship with space itself, ideal for a city as crowded as Tokyo. Yet these new relationships also allow room for a return to the old, and Fujimoto reminds us that a new understanding of tradition is also a form of innovation.
At the moment, 13% of all structures in Japan are standing empty, a figure expected to triple in the next twenty years. Nature of course has continued to encroach, even in urban areas. In order to adapt to this inevitability, previous architectural designs naturally need to be rethought, with an excising of the unnecessary, even if that means a major adaptation, or an altogether forgoing of the structural elements of ceilings and walls. Perhaps Fujimoto has a premonition of a somewhat bleak future, and is acting as a mentor, teaching us how to learn to live with less.

Edward J. Taylor is a writer and editor based in Kyoto, Japan. Previously he has written for ZenVita on the architecture of Kenzō Tange, Kengo Kuma, Shigeru Ban, Kazuyo Sejima, and Toyo Ito.

For more innovative designs from Japanese architects visit the ZenVita Projects page. ZenVita offers FREE advice and consultation with some of Japan's top architects and landscape designers on all your interior design or garden upgrade needs. If you need help with your own home improvement project, contact us directly for personalized assistance and further information on our services: Get in touch.