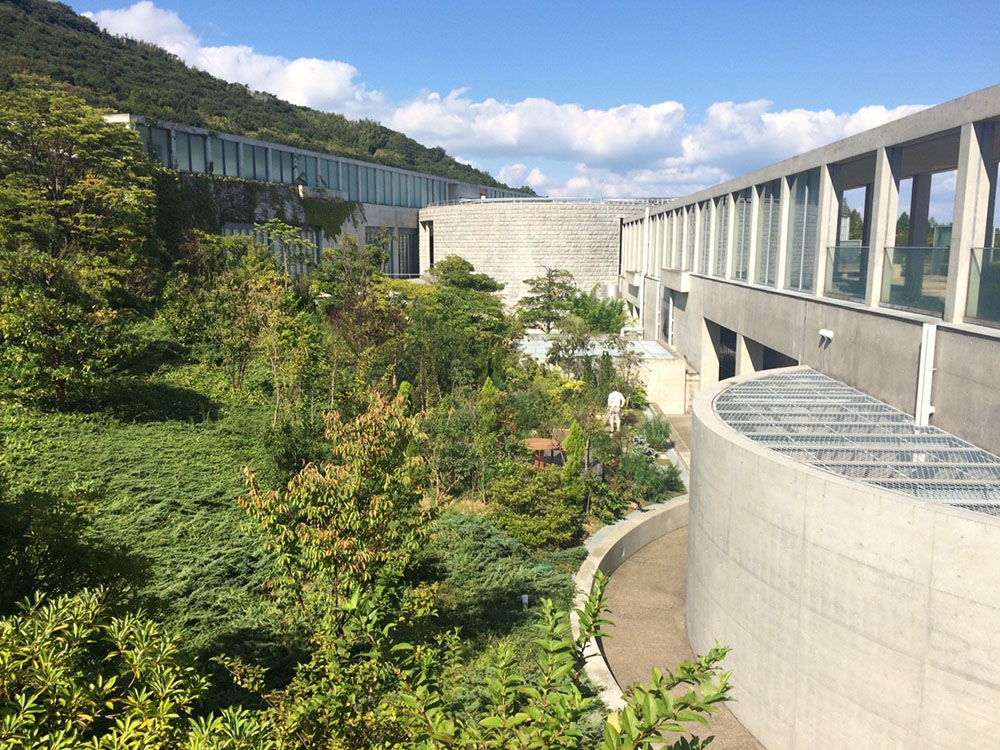 Geometrical patterns and nature
Awaji Yumebutai is a mixed-used complex of buildings in Hyogo Prefecture, Japan, designed by the Japanese architect Tadao Ando. It was built on the remains of a hillside that had been devastated by the continuous removal of soil for huge landfill projects in Osaka Bay, like Kansai Airport.
Tadao Ando's original goal for the area was to restore the local environment and turn it into a park. However, in 1995 Awaji Island was at the epicenter of the Great Hanshin Earthquake that affected the entire region and in which over 6,000 lives were lost. Tadao Ando then decided to revise the project completely.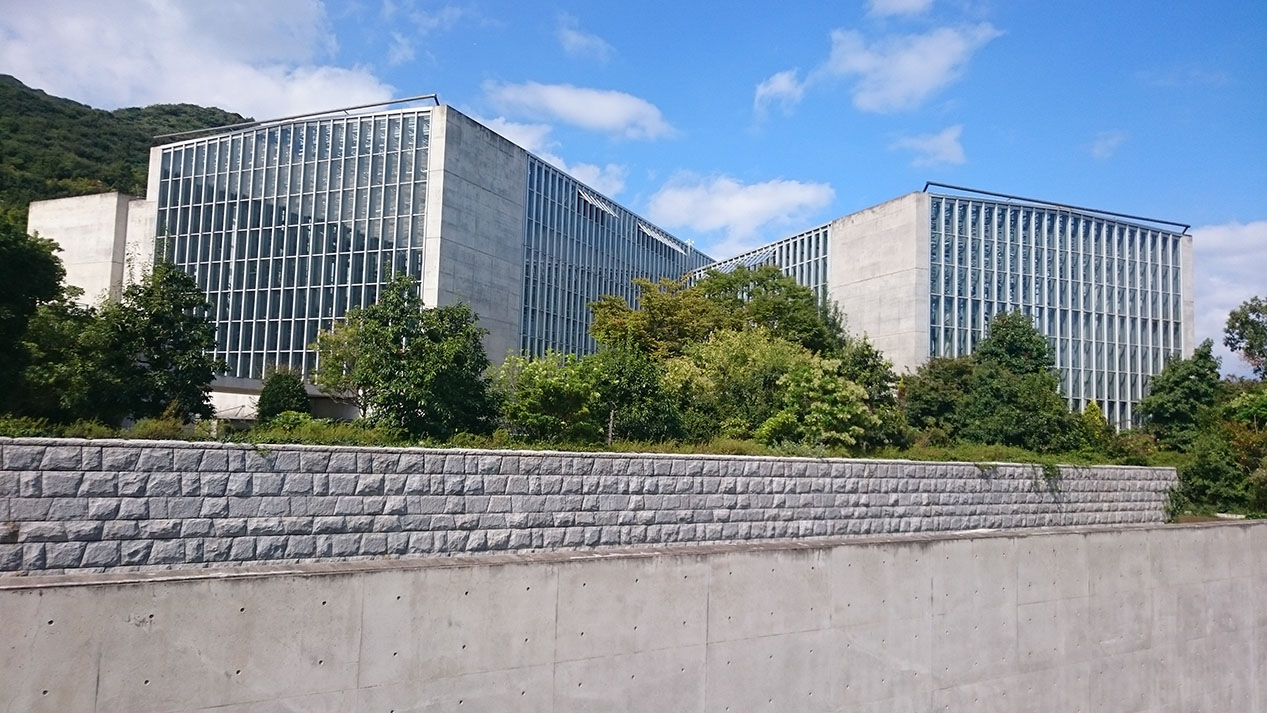 The greenhouse consists of a pair of glass rectangles crossing each other. It is Japan's largest greenhouse at 6,700m²
The project is an intricate complex of interior and exterior spaces, surrounded by nature, with mountains on one side and the sea on the other. It includes a hotel, restaurants, plazas, an international conference center, a greenhouse, an outdoor theater and the famous "100 step garden".
Concrete and natural stones of the same grey color highlight the green and natural environment. Each building has a distinct geometric shape, and the corridors and plazas connecting them provide an amusing experience.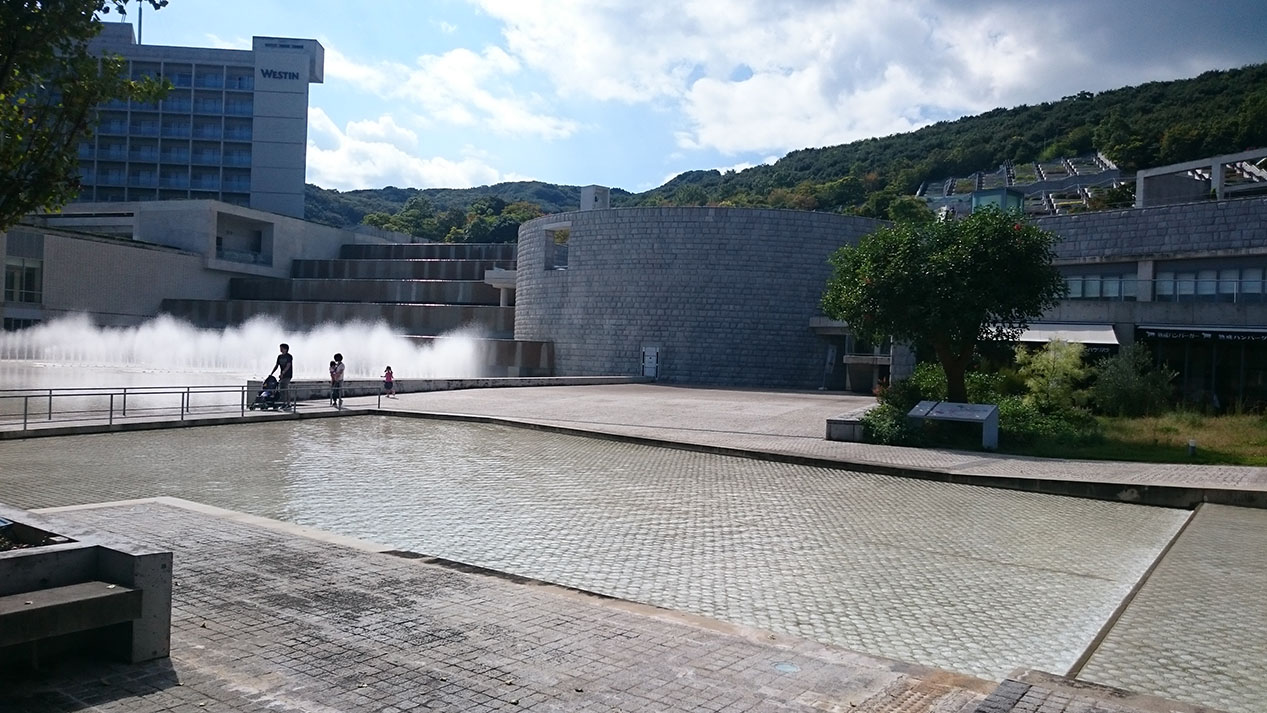 The Shell Garden Plaza contains 1,000 fountains and 1 million scallop shells.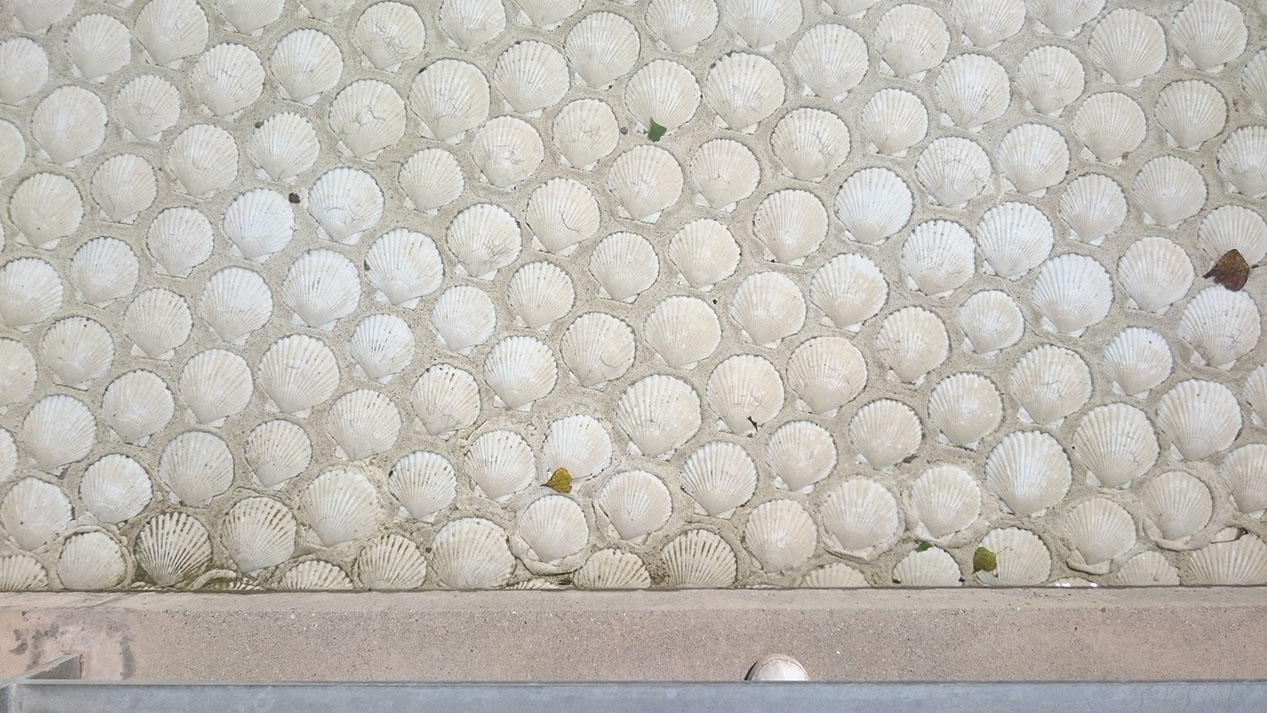 The shells in detail.
These paths are rich in surprising elements and give us different impressions using sensory features, like sound, light and water. Paths never follow a straight or uniform course, but contain steps, ramps, and water elements such as ponds, cascades and fountains.
Walking through a sequence of interior and exterior areas, the light and shadow, and the still or running water create a rich spatial experience. Geometric apertures in the walls frame the sky and the environment outside. It's like walking in a museum where nature is the work of art on display and the architecture serves to enhance it.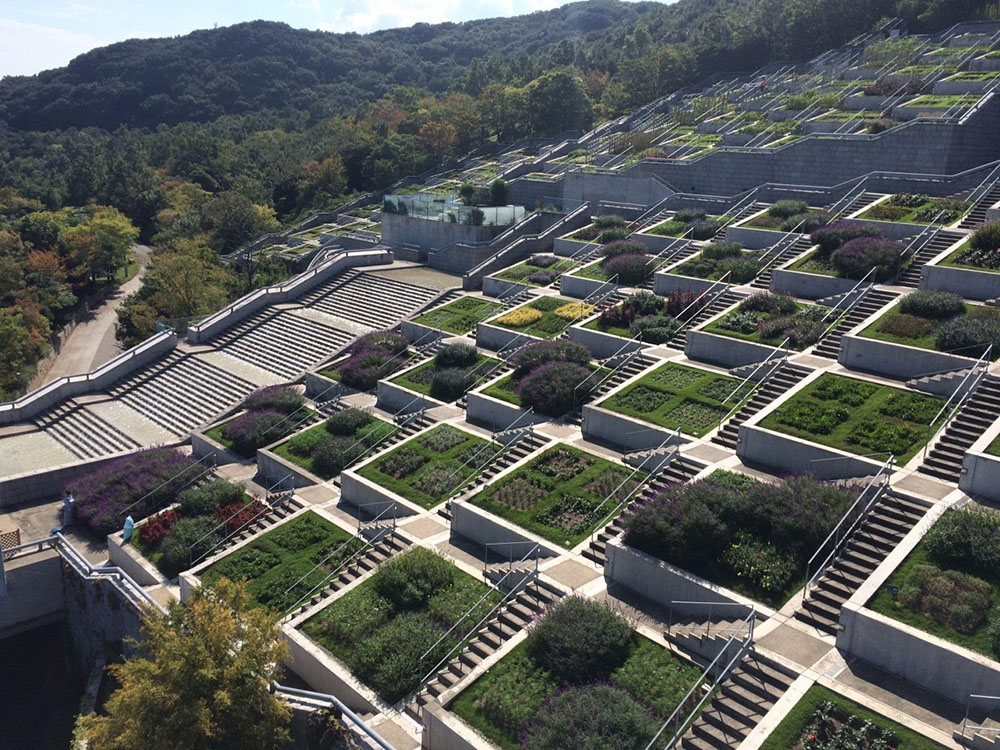 The 100 step garden is arranged in a geometric pattern of 100 inclined squares, each holding a flower bed. These follow the slope and are linked by a maze of stairs. According to Tadao Ando, it is "a symbol to calm the souls of those who lost their lives in the disaster".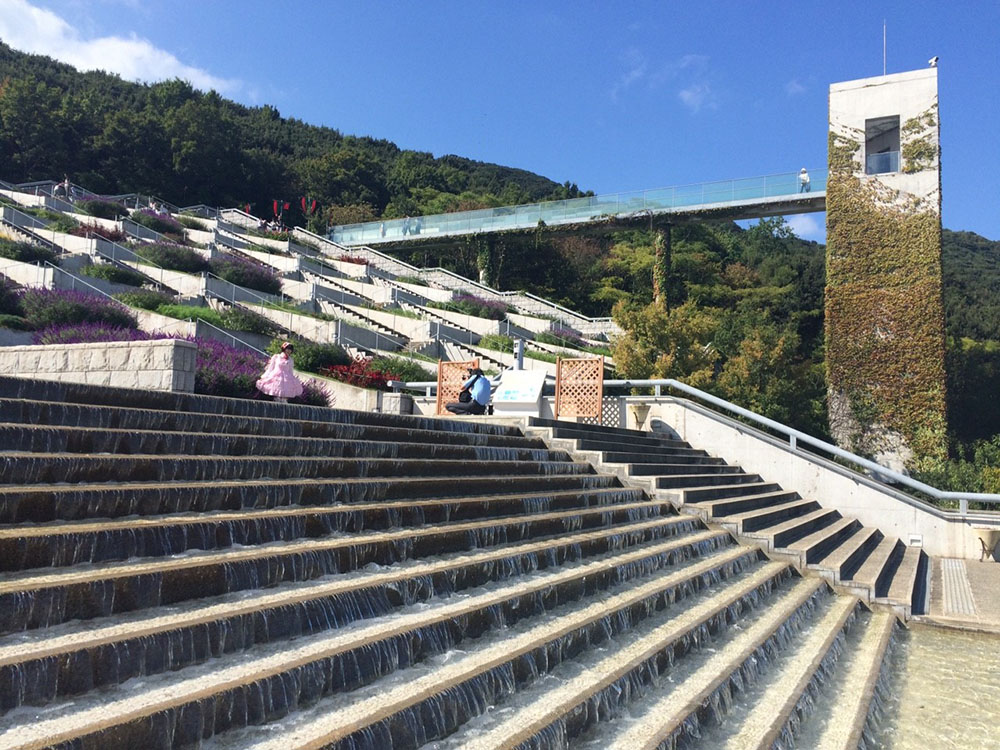 The elevator tower and stairs.
This is the highest point of the project with a breathtaking view of the sea and the whole complex. You can access it by elevator or by following the course of a 10 meter wide step-cascade of flowing water.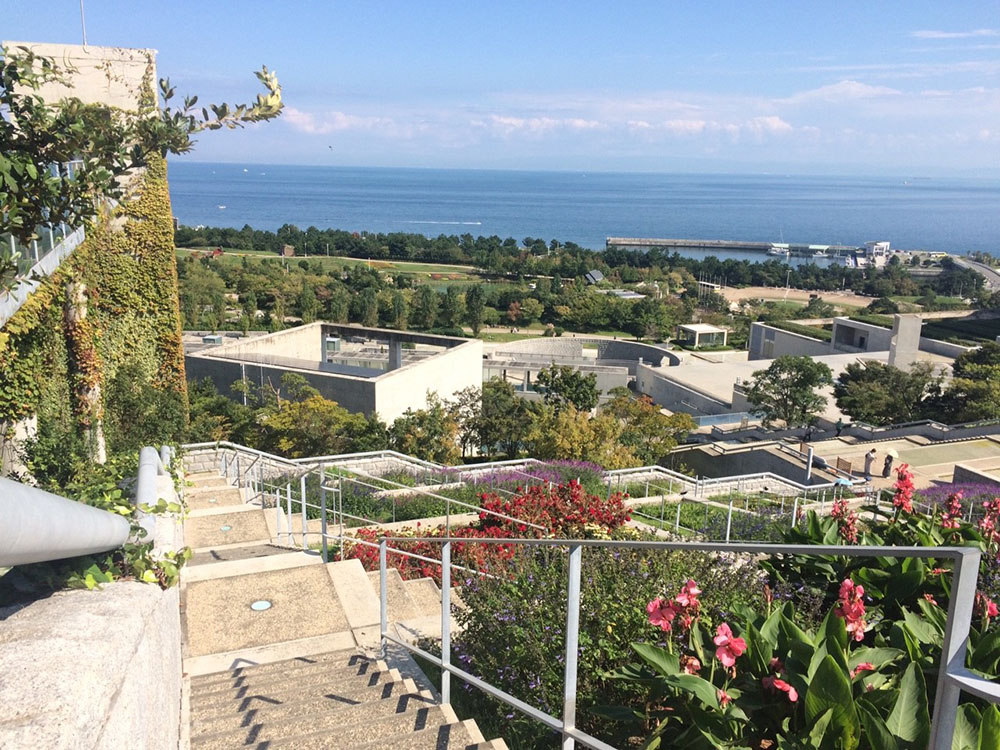 Yumebutai (夢舞台) means "dream theater" in Japanese, a place designed to serve as a stage for building dreams of a new life. It not only serves to restore the landscape but also acts as a memorial for the thousands of people that lost their lives in the Great Hanshin Earthquake. It's a project that speaks of resilience, and reminds us that devastation can be transformed by design and art into a celebration of beauty and life.
* Quote from Karel Bos' The 100 step garden (Hyakudan-en)

For more inspiring designs from Japanese architects visit the ZenVita Projects page. ZenVita offers FREE advice and consultation with some of Japan's top architects and landscape designers on all your interior design or garden upgrade needs. If you need help with your own home improvement project, contact us directly for personalized assistance and further information on our services: Get in touch.